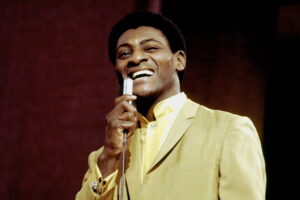 From the Ace Records UK website. Thanks to Doug Price for letting JGM know of Bishop Simon's passing and forwarding this information.
Joe Simon died on 13th December 2021, aged 85 years.
Joe Simon possessed one of the greatest Southern Soul voices heard throughout the golden age of the 60s & 70s soul music.
The voice of Joe Simon was one of deep soul. It had a languid, velvet-smooth quality reminiscent of other great talents such as Jerry Butler, Garland Green, and James Carr. One of his early influences was the supper-club crooner Arthur Prysock and he was also very impressed by the ballads of Ray Charles. However, the silken baritone voice of Joe Simon could sound equally at ease with a deeply-felt ballad as with a more uptempo dance number.
In the UK Joe's legacy of recordings did not enjoy the true recognition it deserved. I suspect this is due to his leaning towards the southern-style ballad, with its country influences, rather than the uptempo, more sophisticated dance music often preferred by the soul fraternity. In the southern states of America though, Joe's reputation is undisputed. As a close friend of Otis Redding, Joe shared the sad-honour of being pallbearer, together with Joe Tex and Johnnie Taylor, at Otis' funeral after his tragic death in December 1967. On this emotional occasion in Macon, Joe's gospel voice sang 'Jesus Keep Me Near The Cross'.
Joe Simon was born in Simmesport, Louisiana on 2 September, 1936, not far from the Crescent City of New Orleans. As a boy, his gospel roots were cultivated in the choir at the local Pilgrim Rest & Baptist Church with his brother and three sisters. In 1959, at the age of 15, Joe and his family moved to Oakland, California, and it was here, as a teenager, that Joe formed a vocal group called the Silver Stars. His debut recordings, however, were with another group, the Golden Tones who had two singles on the Hush label in 1959 and 1960. Hush was a small-scale operation owned by Garrie and Clara Thompson who employed their son Garrie Jr as recording manager and were based in Sunnyvale a suburb of San Jose about 30 miles from the San Francisco Bay. Joe then became a solo artist, managed by Garrie Sr and first recorded 'It's A Miracle' in July 1960. Then came 'Everybody Needs Somebody', 'Pledge Of Love', 'Troubles' and finally 'I Keep Remembering', which featured Joe wailing in the true gospel tradition.
For financial reasons the Thompsons then tried a couple of label name changes and Joe's next release 'Just Like Yesterday' (1963) was issued on the Irral label and finally the deep moving ballad 'My Adorable One' came out in 1964 on Gee Bee. This latter recording became a strong local hit and was picked up in a lease deal by the Chicago-based Vee-Jay Records who sold enough records (#102 in the R&B charts) to continue with Joe. The follow up 'When I'm Gone' was virtually a Part Two job of 'My Adorable One' – which failed. Not only was Joe copying his own sound, but in 1966 Percy Sledge had a big hit with 'Warm And Tender Love' a song which was based so strongly on 'My Adorable One' that Joe's publishers successfully sued Percy Sledge's for 50% of the songwriting royalties.
Following Jerry Wexler's example of sending his Atlantic acts to Rick Hall's Fame Studios in Muscle Shoals, Alabama, Vee-Jay did the same, initially with Joe. He recorded the classic Dan Penn and Spooner Oldham ballad 'Let's Do It Over; which made it to #13 on the R&B charts in August 1965. Vee-Jay by this time was a sinking ship and Joe's success couldn't help that. He had met John Richbourg, the legendary Nashville DJ on station WLAC while on his promotional tours and the two got on well together. John R was also a producer and A&R chief for Sound Stage Seven Records (SS7), the R&B subsidiary of Monument Records. Joe explained their relationship to journalist Barney Hoskyns in these words; "John was the first guy I met who could swing that much weight and yet be so nice …… He asked me to give him a chance with my career and we shook hands". Joe by now had realised that the Thompsons didn't have the musical muscle to progress his career any further, so he shook John R's hand, went under his management and also went with him to his next label, Sound Stage 7.
It was with SS7 and John R that Joe's graceful velvety singing voice truly emerged. Joe explained to Barney Hoskyns; "John Richbourg introduced me to the Nashville lyrics… I've written some good songs, some hit songs, but to this day I can feel the country songs so much better". A string of releases led to notable R&B hits; 'Teenager's Prayer' (#11, 1966) was a dreamy 'teen' ballad while 'My Special Prayer' (#7, 1967) was reminiscent of a Ben E King number, both these songs, however, were not typical of the SS7 material. 'Nine Pound Steel' (#9. 1967) is a prime example of the Southern Soul material masterly handled by Joe Simon. Next came the excellent '(You Keep Me') Hangin' On' (#11, 1968) which was Joe's first sizeable pop hit, reaching #25 in these charts. His first R&B #1 and biggest pop hit with SS7 was 'The Chokin' Kind' (1969) written by Harlan Howard and formerly a country hit for Waylon Jennings. Joe's version, with its characteristically chugging bass-line reminiscent of Tyrone Davis, was recorded back in Nashville and it reached #13 in the pop charts. 'Farther On Down The Road' (#7, 1970) was a rhythmically similar soul hit. Joe had 16 listed releases for SS7 which reached the R&B top 50, making him their best selling and most famous artist.
By the late 60s, Joe was being managed by stalwarts of the New York music industry, the Rifkind brothers, Roy and Julie, who had recently formed Spring Records with Bill Spitalsky. Looking to strengthen the label's artist roster with an established name, they persuaded Joe to join their company. For the next decade he enjoyed his greatest success with an annual album release and 25 chart listed singles. John R continued to produce Joe and things started very favourably with a deal providing $25,000 upfront on signing the contract. The first single, 'Your Time To Cry' (1970) was beautifully arranged by Bert DeCoteaux and recorded at Music City studios in Nashville. It was a Southern Soul masterpiece and epitomised Joe Simon's music, selling a cool million and reaching #3 in the R&B charts (#40 pop). His following release was a lively version of the Kris Kristofferson classic 'Help Me Make It Through The Night' (1971), also made famous by Gladys Knight & The Pips a year later. It peaked at #13 on the R&B charts. 'You're The One For Me', a self-penned steady southern groove did one better making #12 later that year. 'Georgia Blue' (#19 R&B in 1971) was another masterpiece of deep soul, a wistful ballad with prominent strings, and is currently a favourite play in the "deep rooms" of soul venues in the UK. The flip, 'All My Hard Times' is an upbeat country ballad with a John R hallmarked production which helped it to chart independently of its other side, reaching #26 R&B.
In late 1971 Spring astutely sent Joe to Philadelphia to record under Kenny Gamble and Leon Huff, thus instigating a change of musical image and style. The result was one of Joe's biggest hits, the now classic 'Drowning In The Sea Of Love'. It was another million-seller reaching #3 on the R&B charts and #11 pop. Joe's voice fits perfectly into the sophisticated musical arrangements so characteristic of the 'Philly' sound created by Gamble-Huff in the 70s. The next two releases came from the same set-up, the melancholic 'Pool Of Bad Luck' (1972) reached a respectable #13 in the R&B charts, while 'Power Of Love' (1972) sold a million and topped this chart – its forceful vocals, funky guitar and punchy brass proving to be a winning combination, also reaching #11 as a pop hit.
The next 45 continued with the Philly sound on the 'I Found My Dad' side, a slice of in-vogue social realism that made #15 R&B, but the more successful flip 'Trouble In My Home' (#5 R&B) was a change of material and production with Raeford Gerald (stage name Ray Godfrey), the co-writer of 'Your Time To Cry', penning the bluesy song with Joe himself. It showed that much thought was given to Joe's writers and producers by Joe and his management; the best talent was sought out and used even when he was still hot with another team. Change kept them ahead of the game and the Gerald/Simon move would soon lead to Joe's biggest ever hit. The breezy disco hit 'Step By Step' (1973) was written and produced by Raeford Gerald, and fared well in the R&B charts, reaching #6. It was also his only UK chart hit, reaching #14. Joe had further success with the funkily atmospheric 'Theme From Cleopatra Jones' (1973), the title song from the "blaxploitation" movie starring Tamara Dobson. The song is credited "Joe Simon featuring the Mainstreeters", a group Joe also produced for Spring's subsidiary label, Event. It peaked at #3 R&B and #18 pop. Equally funky was 'River' (1973) which was a significant R&B hit reaching #6. Joe's next release reverted to the southern style. 'Carry Me' (1974) was a jaunty ballad penned by Phillip Mitchell and Ernest Shelby. As with most Mitchell songs, the quality is inbuilt, and it reached #12 on the R&B chart. 'The Best Time Of My Life' (1974) was a catchy up-tempo song with Joe's voice swinging along with his usual self-assurance. It reached #15 on the R&B chart.
Then came the big one, 'Get Down, Get Down (Get On The Floor)' (1975) which Joe produced with Raeford Gerald at Media Sound in New York. This million-seller went to #1 on the R&B chart, and #8 on the pop charts. It was a clear departure into the world of disco which was sweeping through the dance scene at that time, and heralded another change of direction in Joe's career. His next singles were in a similar vein with 'Music In My Bones' (1974) doing well on the R&B charts (#7) but was too similar to 'Get Down..' to leave much of a mark on the pop charts. 'I Need You, You Need Me' (1976) was a mellow funky groove which reached #5 (R&B) and 'Come Get To This' (1976) is just downright funky disco (#22 R&B). 'Easy To Love' (1976) scored marginally better, reaching #12, but 'You Didn't Have To Play No Games' (1977) was slightly wide of the mark. I guess the more appealing disco music around then must have eclipsed this one.
Joe continued to record mainly disco music, still producing in New York, but now working with Teddy Randazzo at Ultima Studios. 'One Step At A Time' (1977) had a catchy chorus and became a modest R&B hit (#28). 'For Your Love, Love, Love' was a pleasant departure, a smoochy downbeat song which had similar chart success. By mid-1978 sales of Joe's disco items were dropping, 'I.O.U.' only reached #71 R&B in July of that year. After this Joe had a better R&B hit with 'Love Vibration' (#15 R&B), which he co-wrote with Teddy Randazzo, but was produced by Norman Harris at the Sigma Sound Studio in Philadelphia. This again was in the disco style, with a classy rhythm. The two subsequent Spring hits 'Going Through These Changes' and 'I Wanna Taste Your Love' only just crawled into the Top 100 R&B and the new decade saw Joe moving to a new subsidiary label, Posse, for whom he recorded some fine tracks but could only manage three small-sized hits. Joe Simon's chart life, which had spanned 16 years with 49 hits, was over.
Although Joe had his successes in the disco field, I think it's fair to say his most enduring music has a more Southern Soul flavour, in particular the ballads. His career did not fare well after 1975 and only improved properly with an excellent album released on Posse, in 1981 "Glad You Came My Way", produced in Nashville and Memphis by Grand Ole Opry stalwart Porter Wagoner. The single, 'Alone At Last' (1984) was Joe's last collaboration with John R on the Mell-O-Sound label. In 1985 the album "Mr Right" was released on the Nashville label Compleat.
Though Joe Simon converted back to Gospel from secular music at a concert in Louisiana in 1983, the "Mr Right" LP came out after that date; possibly it was a contractual work that took some time to complete.
When Ace bought the rights to Spring records in 1988, Joe was not interested in any involvement with non-religious recordings, but we maintained a good relationship with him and his wife Melanie who notified us of his passing. Joe had been ill for some time and spent his final night at home with her, even talking about going back into the studio. He died of breathing problems in an ambulance on his way to hospital. His funeral is planned for 22nd December.
Malcolm Crowther
Thanks to Barney Hoskyns' book "Say It One Time For The Broken Hearted" (Fontana/Collins 1987)
From Soultracks:
By the 1980s, Simon began devoting his life and his music to his faith, and he became a minister and Gospel singer. He formed Bishop Joe Simon Ministries, which provided humanitarian services — particularly education, transportation and support for underserved youth. From a musical standpoint, Bishop Simon released the albums Lay My Burden Down in 1983 and This Story Must Be Told in the late 90s. More recently, he issued the nice single "Lord They Said I Wasn't Gonna Be Nothin" in 2016, the same year he released a documentary on his life.
Written by : Bob Marovich
Bob Marovich is a gospel music historian, author, and radio host. Founder of Journal of Gospel Music blog (formally The Black Gospel Blog) and producer of the Gospel Memories Radio Show.