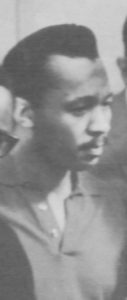 By Bob Marovich
JGM learned from multiple sources of the passing of Leo Coney, a quartet singer formerly with the Violinaires and the Gospel Classics. He transitioned to glory on August 2 around 5:00 p.m.
Coney was one of the original Violinaires. The quartet was formed in 1952 in Detroit, Michigan, by Coney, Isaiah "Lil Shot" Jones, and Wilson DeShields. Arthur "Bob" Beatty, who served with the Heavenly Gospel Singers and the Sensational Nightingales, was another early member. According to Beatty, the Violinaires sought initially to replicate the sound of the Heavenly Gospel Singers. Eventually, however, their emphasis on treble harmonies over a prominent bass vocal line set a new standard that gospel quartets still follow.
The Violinaires' first single, the haunting "Another Soldier Gone" (Drummond, 1953) introduced the world to Lil' Shot's hair-raising falsetto voice. The song was marketed to gospel enthusiasts as by the Violinaires and to R&B enthusiasts as by the ? Marks. Around that same time, the Violinaires experimented with R&B by recording a few songs for Joe Von Battle's J-V-B imprint and released under the nom de plume of the Gales ("Darling Patricia"). They signed with Checker in around 1964.
Coney stayed with the Violinaires until 1966, when he, DeShields, and Cleofus Tilman got tired of traveling and formed the nucleus of a new group called the Gospel Classics. This quartet was active into the 1980s, recording for Checker, Creed, and Raven. Their 1968 gos-pop single, "More Love, That's What We Need," is an ode to brotherhood. Decades later, the 45 rpm single is sought-after disc by collectors and club DJs alike.
JGM extends its sympathies to Mr. Coney's family, friends, and many fans. Homegoing information below is courtesy of Ms. Anntwanette Cartwright – thank you, Ms. Cartwright!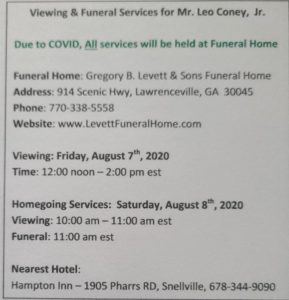 Written by : Bob Marovich
Bob Marovich is a gospel music historian, author, and radio host. Founder of Journal of Gospel Music blog (formally The Black Gospel Blog) and producer of the Gospel Memories Radio Show.