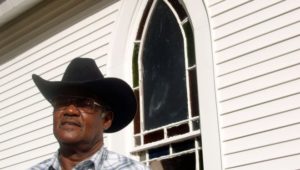 By Bob Marovich
Gospel music collector and enthusiast John Glassburner informed JGM that the Reverend John Wilkins, son of blues singer Robert Wilkins, passed away October 6 at age 76 after a two-month battle with COVID-19.
Bob Mehr of the Memphis Commercial Appeal does a far better job than I could writing Rev. Wilkins' obituary, so please read it here:
https://www.commercialappeal.com/story/news/2020/10/06/rev-john-wilkins-obit-dies-memphis-music-blues-gospel/5902177002/
Here is a video of Rev. Wilkins cutting a 78 RPM record for The 78 Project:

Here is JGM's review of Rev. Wilkins' five-star album, You Can't Hurry God (Fat Possum Records, 2010):
https://journalofgospelmusic.com/gospel/reverend-john-wilkins-you-cant-hurry-god/.
JGM sends its condolences to Reverend Wilkins' friends, family, and many fans.
Written by : Bob Marovich
Bob Marovich is a gospel music historian, author, and radio host. Founder of Journal of Gospel Music blog (formally The Black Gospel Blog) and producer of the Gospel Memories Radio Show.