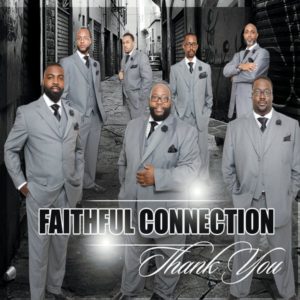 Faithful Connection
Thank You (2015)
www.faithfulconnection09.com
By Bob Marovich
Named Quartet CD of the Year at the 2016 Rhythm of Gospel Awards, Thank You is a ten-track album by Faithful Connection that blends traditional gospel quartet singing with modern musicianship.
The Fredericksburg, Virginia, group pays homage to Tidewater quartet history through its tight harmonies that emphasize the mid-range versus high tenor or bass. The quartet's harmonies are especially prominent on the title track and on "Come Too Far," which opens with the classic open guitar strum and features a warbling organ as well as hard singing from guest lead James H. Wilson.
The album also contains three drive tempo tracks, including the opener, "Glory Land," which celebrates the promises of the hereafter. The theme of the heaven bound soul concludes the album, too: "Well Done" is the pat-on-the-back that everyone hopes to get at the pearly gates.
All but one of the songs are newly-composed by the group's lead singer, Minister Jonathan Mercer. The one that is not is a passionately sung arrangement of a gospel hymn, "Pass Me Not, O Gentle Savior."
We have in the past referenced the cross-influence between traditional country music and gospel music, especially in quartet singing. Faithful Connection's song of gratitude, "Thank You for Keeping Me," demonstrates that linkage with a country twangy melody and beat.
Producer Ray Braswell Jr. of Raymarkable Music does a characteristically superb job balancing the voices and music so you can hear every word and every subtlety of harmony. He even plays keys, bass, and drums, thereby all but making him an honorary member of the group.
Thank You is no muss, no fuss quartet singing by Faithful Connection, a quartet that clearly understands the importance of keeping gospel music sounding like gospel music.
Four of Five Stars
Picks: "Glory Land," "Come Too Far."