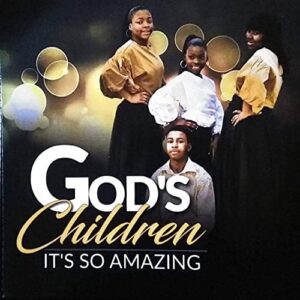 God's Children
It's So Amazing
Independent (2018)
https://www.facebook.com/godschildrenmemphis
By Robert M. Marovich
On It's So Amazing, the Memphis, Tennessee-based Shirika "Re Re" Flowers and God's Children (and also Re Re's eldest children), run through a battery of gospel quartet-style songs, rendered with a churchy vibe and with frequent vamps for evangelical emphasis.
Although the album notes do not include the names of specific lead singers for each of the album's ten tracks, aurally it appears as if every member of the troupe has a chance to solo at least once. Young solo voices are particularly audible on "It Was Jesus," "You're Able," and "Let's Move." The latter contains a clever lyric about the wonderment of seeing a church congregation in spirited motion to the music and the longstanding battle between what does and does not constitute appropriate church behavior (spoiler: the youth favor high-octane praise).
A mid-tempo song about entering the pearly gates, "Be Alright" sounds plucked directly from the quartet tradition and is one of the album's most solid tracks. A close second is the drive-tempo "What You Want," which is "Jesus is on the Main Line" reconstituted for an era in which the telephone "main line" no longer exists. The closer, "Nobody Knows," is a gospelization and modernization of the spiritual.
A team of musicians, which also includes family relations, supports the group faithfully, with capable production from Joshua Myles. God's Children is a proficient group long on passion and with a heart for traditional gospel music. They took home two awards during the 2021 Rhythm of Gospel Awards, including New Artist of the Year. Interestingly, their live appearance at one of the ROGA showcases was more affecting than any track on the album.
Three of Five Stars
Picks: "Be Alright," "What You Want"
Written by : Bob Marovich
Bob Marovich is a gospel music historian, author, and radio host. Founder of Journal of Gospel Music blog (formally The Black Gospel Blog) and producer of the Gospel Memories Radio Show.