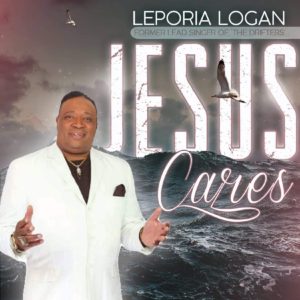 "Jesus Cares"
Leporia Logan
GodSent Music Group (2021)
www.iamhollywoodlogan.com
By Robert M. Marovich
As "Hollywood" Logan, Leporia Logan was a member of the world-famous Drifters, entertaining audiences with classic vocal harmony renditions of "Under the Boardwalk," "Up on the Roof," and "Stand By Me."
Prior to that, however, Logan was a gospel singer and musician. He traveled with Howard "Slim" Hunt and the Supreme Angels, Doc McKenzie and the Hi-Lites, and the Fantastic Violinaires, the latter alongside legendary lead singer Robert Blair.
Logan returns to his gospel—and specifically gospel quartet—roots on "Jesus Cares." With a gruff voice that evokes Blair as well as the Mighty Clouds' Joe Ligon, Logan preaches as much as sings his self-penned song of encouragement that no matter what happens, Jesus cares for you. Our freedom was purchased by Jesus's death and resurrection, sings Logan and his background vocalists, quoting John 8:36 for added emphasis. "One Friday night, He set me free," Logan declares. "I never will forget it." Solid traditional fare.
Written by : Bob Marovich
Bob Marovich is a gospel music historian, author, and radio host. Founder of Journal of Gospel Music blog (formally The Black Gospel Blog) and producer of the Gospel Memories Radio Show.