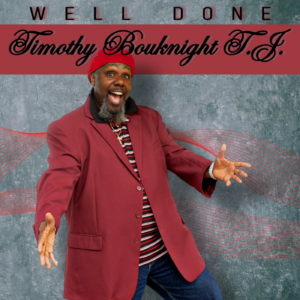 "Well Done"
Timothy "T.J." Bouknight
Higher Praise Records (2021)
By Robert M. Marovich
Elder Timothy "T.J." Bouknight renders the pew-walker "Well Done" like the quartet veteran he is.
The song is about the effort it takes to enter the gates of paradise. Bouknight opens "Well Done" with the classic couplet, "One of these days, won't be very long…" Later, he sings about how he's faithfully sending up his timber to get inside those gates. "When my so-called friends stabbed me in my back," he offers, "I didn't worry about nothing, I just stayed on track."
Bouknight's staid-to-shouting lead vocal, especially during the vamp, is equal parts Lee Williams and Joe Ligon. It's the Southern Gospel Singers of Washington, DC who echo the Elder's lyric lines.
Quartet enthusiasts will be familiar with Elder T.J. Bouknight from his work with the Southern Gospel Singers as well as Kenny Davis & the Melodyaires. "Well Done" is a selection from Bouknight's forthcoming ten-song release.
Written by : Bob Marovich
Bob Marovich is a gospel music historian, author, and radio host. Founder of Journal of Gospel Music blog (formally The Black Gospel Blog) and producer of the Gospel Memories Radio Show.