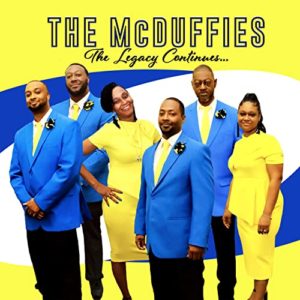 "He's Working on Me"
The McDuffies feat. Bishop Darrell McFadden
From the Ruffboyzmusic Group LLC album The Legacy Continues
(album release date: January 15, 2021)
By Robert M. Marovich
The McDuffies salute the memory of their brother Ricky McDuffie with a new album and single.
The single, "He's Working on Me," is a driving selection with hard lead singing from quartet veteran Bishop Darrell McFadden. He does Ricky proud with his raw vocals, well-timed shouts, and a gospel chuckle tossed in for good measure. Every time he feels like throwing in the towel, McFadden sings, he remembers that he's a work-in-progress. The McDuffies offer superb give-and-take background support.
It's an ideal track for radio announcers looking to add lively quartet fare to their program.
In 1984, Alice Mae Teal assembled her grandchildren into the McDuffie Family gospel quartet. Despite the tragic passing of leader Ricky McDuffie in 2019, the group persisted. Personnel are Sharmeika McDuffie, Prophetess Marsharika McDuffie-Quick, Rodney McDuffie, Derrick McDuffie, James McDuffie Jr., and Laytron McDuffie.
Written by : Bob Marovich
Bob Marovich is a gospel music historian, author, and radio host. Founder of Journal of Gospel Music blog (formally The Black Gospel Blog) and producer of the Gospel Memories Radio Show.