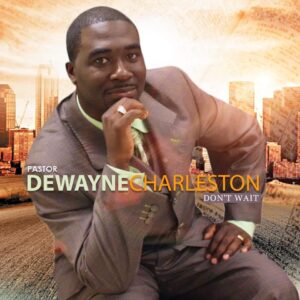 Pastor Dewayne Charleston
Don't Wait
JJ Music Media (release date: April 1, 2022)
By Robert M. Marovich
Although Pastor Dewayne Charleston's Don't Wait is a solo project, the soulful singing, the quartet harmonies, the wooden church spirituality, and the traditional-leaning arrangements endow it with the spirit of a quartet CD.
In this case, the quartet harmonies supporting Charleston are handled by a duo, Jerome Larkin and Dion Bell. Assisting the singers is a team of steady-handed musicians led by Jerald "JJ" Griffin, who manages multiple duties on bass guitar, keys, horns, and strings.
The album's current single is the easy-loping title track. A warning to be prepared for the judgement, the song features Charleston in a duet with Cetric Hunter. For my money, though, the album's finest track is the drive-tempo "Show Some Sign." The cut comes complete with an aisle-walking vamp, Charleston's growling vocal, and a kick drum that establishes the quartet backbeat, ready-made for handclapping and foot patting.
Although its message is clearly sacred, about letting God take the reins in times of trouble, "Work It Out" has low-down blues in its DNA; Charleston sounds as if he gets happy at the end. "It's Me," featuring another duet, this time with Bryant Carter, is a soulful arrangement of the folk spiritual "Standing in the Need of Prayer."
"Hold Me Jesus," a prayerful plea featuring singer Armondo Adams, is the most contemporary sounding song on the album, although "Recommend Jesus" contains similarly smooth harmonies. The B3 warbles behind Charleston and the team on the pleading "Don't Leave Me."
This is not Pastor Charleston's first rodeo. In 2015, Pastor Dewayne Charleston and the Rising Sensations quartet released Still Running – Live. The compact eight-selection Don't Wait is just as hearty and will appeal to fans of quartet and soulful Southland gospel.
Three of Five Stars
Picks: "Don't Wait," "Show Some Sign"
Written by : Bob Marovich
Bob Marovich is a gospel music historian, author, and radio host. Founder of Journal of Gospel Music blog (formally The Black Gospel Blog) and producer of the Gospel Memories Radio Show.