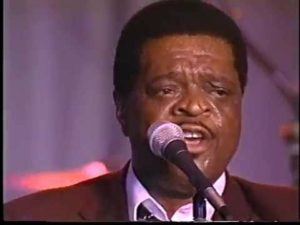 By Bob Marovich
The Journal of Gospel Music learned that Mr. Clay Graham of the legendary gospel quartet the Pilgrim Jubilees has passed away.
One of thirteen children born to Columbus and Josephine Chandler Graham, Clay Graham was born August 26, 1936. He would go on to fame as lead singer and sermonette spinner for the Pilgrim Jubilee Singers.
Formed in 1944 in Houston, Mississippi, the Pilgrim Jubilee Singers (later shortened to the Pilgrim Jubilees, or the "Jubes") began as a family quartet consisting of brothers Theophilus "Hoppy" Graham and Elgie C. B. Graham, cousin Monroe Hatchett and cousins-in-law Willis Johnson and Alfred Brownlee. The group sang at the family's home church, New Zion Missionary Baptist Church, and other local venues.
The Jubes disbanded briefly in 1947 when Hoppy migrated to Chicago, but he reassembled the quartet in 1950 when Elgie, Cleave and Monroe joined him up North. They added fellow Mississippian Major Roberson, formerly of the Pilgrim Harmonizers; Robertson was a songwriter who became the group's booking manager. As soon as he was old enough, Clay Graham became a member.
During their years with Peacock (1959-75), the Jubes hit their stride. In particular, they introduced two elements that became emblematic of their sound: substitution of the bass guitar for the bass voice ("Stretch Out") and Clay's use of sermonettes, or brief morality stories, to introduce an old hymn or new song ("True Story"). "True Story" was based on a conversation Clay had with a North Side man who was beaten down by life and wondered whether the Lord would forget him when he died.
In 1980, the Jubes signed with Savoy Records. By now one of the most popular quartets in the nation, the Jubes—comprised of Clay and Cleave Graham, Roberson and Ben Chandler—recorded one album a year for Savoy until 1984.
Three years later, they debuted what would become a longstanding association with Malaco Records with Gospel Roots. The album featured a Clay sermonette called "Barnyard" and a new version of "Old Ship of Zion." Nearly every Malaco album, in fact, carried a Clay sermonette. For example, "Little Willie" graced the 1989 album Back to Basics, while 1991's Family Affair introduced "True Story" to a new generation of listeners.
The Jubes were the first gospel quartet to be the subject of a full-length biography. Written by New Zealander Alan Young, The Pilgrim Jubilees was published in 2001 by the University Press of Mississippi. It remains an essential title on gospel music history. That same year, the Jubes were inducted into the American Gospel Quartet Convention Hall of Fame.
More information on Clay Graham's homegoing services will be available when announced. Meanwhile, we at JGM extend our deepest condolences to Mr. Graham's family, friends, and many fans.
Written by : Bob Marovich
Bob Marovich is a gospel music historian, author, and radio host. Founder of Journal of Gospel Music blog (formally The Black Gospel Blog) and producer of the Gospel Memories Radio Show.