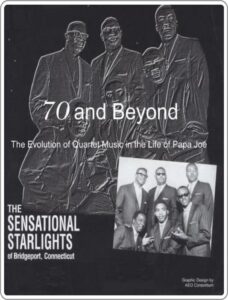 By Robert M. Marovich
Anne' DuBose informed JGM of the passing of her father, Jonathan "Papa Joe" DuBose Sr. He transitioned today at age 82.
Papa Joe DuBose was a member of the Sensational Starlights gospel quartet of Bridgeport, Connecticut, and a leader in the local gospel music community.
Anne' and her family developed a book on the life of Papa Joe after she and her brothers Kenneth and Jonathan Jr. compiled a historical program for their father's 70th birthday celebration. Many know Jonathan DuBose Jr. for his years of guitar work for many gospel artists.
Homegoing details:
Thursday, December 23, 2021
5:00PM – 7:00PM – Visitation
7:00 PM – Service
East End Baptist Tabernacle Church
548 Central Avenue
Bridgeport, CT 06607
70 and Beyond: The Evolution of Quartet Music in the Life of Papa Joe is available for review and purchase at https://aeo.podbean.com/e/the-evolution-of-quartet-music-in-the-life-of-papa-joe/
Written by : Bob Marovich
Bob Marovich is a gospel music historian, author, and radio host. Founder of Journal of Gospel Music blog (formally The Black Gospel Blog) and producer of the Gospel Memories Radio Show.