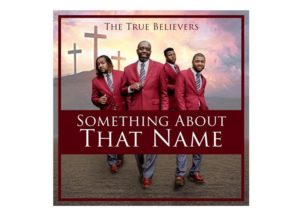 "Something About that Name"
True Believers
From the 4 Winds CD Back to the Roots (release date: February 1, 2019)
www.malaco.com
The True Believers gospel quartet marvels at the wonderful name of Jesus and all the name represents on their new single, "Something About that Name."
"Something" lopes along with a gospel-bluesy strut evocative of the Caravans' "Mary Don't You Weep," as periodic explosions of percussion put exclamation points on the group's declamations.
Just as Inez Andrews looked for Jesus, the True Believers' lead vocalist Castro Coleman calls for Jesus. By the end, the entire ensemble is in joyous swing, with Coleman in full growl-and-shout mode. The single is definitely representative of the album's "back to the roots" assurance.
Castro Coleman, also known as Mr. Sipp, leads the True Believers, named Group of the Year at the 40th Mississippi Gospel Music Awards in 2018.