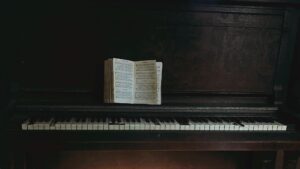 By Nicole McCray
Special Feature – Journal of Gospel Music
www.nicolemccray.com
Most people associate the piano with worship music, and it seems to have been that way for many years. However, prior to piano, the organ was the primary instrument in a house of worship. In looking at the history and origins of the piano, you can trace the path of how this beautiful and complex instrument made its way into the secular realm.
THE BEGINNING
Standard church practice had been to use an organ for accompaniment. But because the organ's sound was so powerful, hymnists' voices did not carry as well over the music. That's why, by the mid-nineteenth century, church music directors began to adopt the piano as their new primary instrument. Hymnist William Batchelder Bradbury found that the instrument was much more suited for church choirs than the organ. He used the piano to accompany his thousand-voice children's choirs at the Broadway Tabernacle in New York City.
When in 1898, he was asked to perform at an American Mission meeting in Cairo, Egypt, Ira Sankey sang to piano accompaniment. Charles Edward Prior, another late nineteenth-century gospel songwriter, was a pianist for the Italian Baptist Mission in Hartford, Connecticut. Nevertheless, the piano was viewed by many religious authorities as a secular instrument.
Charles M. Alexander is the person most associated with the piano's popularity in evangelism. Playing at revival meetings as early as 1902, Alexander's personality and style impressed revivalist song leaders. Even with this acknowledgment, he never featured himself as a soloist but instead directed choirs and hired professional singers to solo as a traditional part of the evangelistic service. He was an important influence for twentieth-century revivalism and evangelical churches; evangelical pianists recognize and attribute their success to him.
A NEW PRECEDENT
Alexander paved the way for evangelical pianism, and his skillful personality drew him much acclaim, with congregations responding in high favor to his leadership. He eventually used the piano exclusively, since he preferred its sound. His style was later promoted by Robert Harkness and the Billy Sunday organization.
In the early 1940s, Harkness wrote a book on evangelical pianism, The Harkness Piano Method of Evangelist Hymn Playing. His piano method emphasized more improvisation, doubling bass lines, and moving the tenor up the octave to the piano's treble clef (right hand). After learning the basic octave hymn pattern, Harkness advised pianists to vary the style, alternating hand octaves with inverted chords. He also stressed that the church pianist must meet the needs of the singing audience. The book is an excellent reference used by many piano instructors who coordinate worship, even today.
The Harkness Method emphasizes the crucial elements of technique and memory for successful evangelical pianism. Chialing P., a teacher of Music to Your Home piano classes, appreciates that the Harkness Method recommends pianists improvise and work with the singer rather than just straight playing. She likes to incorporate music theory in her lessons, but mixes in some creativity, tailoring to students' needs because it's not a "one size fits all" method.
GOSPEL MUSIC AND EVANGELIST PIANISM
Evangelistic-style music flourished with George S. Schuler at the front, publishing multiple "how-to" books for church musicians, one so aptly titled Evangelistic Piano Playing in 1922. Evangelistic Piano Playing was similar to the Harkness Method, allowing more proficient pianists to follow techniques that expand the four-part hymn.
Bentley Ackley, a child prodigy who became proficient on the keyboard, joined the Billy Sunday campaigns to serve as a secretary, but also accompanied many well-known evangelical musicians on piano. He also added three thousand hymns to gospel literature, such as "I Walk with the King" and "I Would Be Like Jesus."
African Americans value and treasure evangelical faith. Evangelical churches in the 1920s did and still emphasize the importance of the gospel in their hymns, and even if its popularity is beginning to decline overall, the Black music tradition still thrives within the evangelical scene.
EVANGELISM IN RADIO
Radio became a popular medium for recognizing and distributing evangelical music. However, musicians had limited recording equipment, so singers would often end up competing with the accompaniment. Lee Roy Abernathy emerged during this time. He developed a course for revivalist pianists, which was broadcast on the radio in 1938.
Other pianists, such as Lance Latham and Merrill Dunlop, began to contribute to evangelistic piano playing methods. However, Rudy Atwood is probably the most important of the radio-revival era since his evangelical pianism career lasted through the resurgence of the 1950s and is still active today.
EVANGELIST PIANISM TODAY
Contemporary gospel and other religious music ministries still use and cherish Evangelical pianism. The piano and its expression credited to Charles Alexander have developed into a permanent place in performance for many churches and houses of worship. In addition, radio still holds great popularity with revival with shows like "Gospel Time" and "The Old Fashioned Revival Hour."
Gospel pianists in evangelism have continued to influence musical styles, including Eddie Robinson, Thomas A. Dorsey, and Glenn Gibson, Jr. Many of their techniques and styles come from the humble origins established by Alexander. So the next time you listen to older hymns played by Ovid Young, Gloria Roe, or Rudy Atwood, you take part in recognizing nearly a century's worth of evangelical pianism.
Written by : Bob Marovich
Bob Marovich is a gospel music historian, author, and radio host. Founder of Journal of Gospel Music blog (formally The Black Gospel Blog) and producer of the Gospel Memories Radio Show.