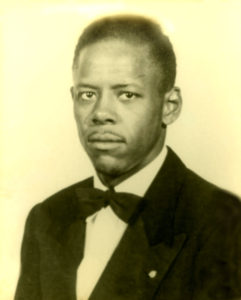 Partly based on telephone interviews with Robert Broussard in 2005
By Opal Louis Nations
Robert Broussard is sadly one of the unheralded baritone shout leads from gospel quartet's Golden Age. He led the jubilee-rooted Ever Ready Gospel Singers of Shreveport in 1953-1954, then switched to Nashville's famous Skylarks Quartet near the close of 1954. He denies ever recording with the Skylarks after 1957 despite the fact that Hayes & Laughton in their Gospel Records 1943-1969 discography have him down as a member in the group on the November 15th, 1962, August 4th, 1965, and January 1967 Nashboro studio dates, and one can plainly hear him sing lead on "Within Me" in 1962 and almost on the whole session of August 1965 and January 5th, 1967. This may have meant that Ernie Young kept a bunch of material in the can from earlier sessions of 1962. It might also be that Robert Broussard, seventy-nine years old at the time of our interviews, had simply forgotten later parts of his Nashboro contract.
Robert Broussard was born in Lafayette, Louisiana, on February 6th, 1926. His family was descended from sharecroppers. His father Walter was a plumber by trade and his mother Bertha Francis kept house. Robert had three older brothers, William, Warren, and Dennis. He was the sole family member to hold any propensity for music. He sang in the choir of the Immaculate Heart of Mary Catholic Church of Lafayette, after which, having lied about his age, he joined the Army. A year later at the age of seventeen he met and married Mary Lou who was a Baptist. Robert departed Immaculate Heart and joined Mary Lou at Lafayette's St. James Baptist. At St. James, Robert organized a gospel quartet called The Golden Echoes, not to be confused with Little Axe's outfit or the group from San Francisco.
The Golden Echoes were composed of Robert, tenor lead, Chester McDonald, second tenor, Arthur Phillips, baritone, Herbert Broussard, second baritone, and Bill Watts, bass. The group made the rounds of local Baptist churches just for the fun of singing together. On occasion a local church minister would pass the plate around to gather an offering for the boys.
We pause here to pick up the founding story of the Ever Ready Gospel Singers of Shreveport as told by Jesse Thomas's blues guitarist Dan Garner in his liner notes to Union of the World, an 18-song collection put out by Southern Star Records on the Ever Ready Gospel singers in 1997 (a reunion release). In 1944, Charles Graves who hailed from Waco, Texas, and Elbert Green from Menifee, Arkansas, met up while in the Service at Barksdale Air Force Base in Bossier City, Louisiana. The pair joined with other servicemen from Missouri and Oklahoma to form a singing group called the Barksdale Melody Singers.
After their discharge from the Army, Graves and Green returned to Shreveport and decided to form a second group out of local singers. First they took on local singer / promoter Willie "Uncle Bill" Caston. By 1946, using Mandel Street as their base, they formed the Ever Ready Gospel Singers with the addition of Elbert Green and baritone Roy Simms. Caston coined the name as it conjured up Ever Ready batteries that were marketed as long-lasting. Their first engagement was at a church in De Berry, Texas. Shortly after that they appeared on KWKH Radio. This lead to a hectic touring schedule that reached out beyond the Tri-State area.
In 1948, they took on Fortune Stephenson from Caspiana, Louisiana. Fortune had sung with the Heaven Bound Four. Caston was in the habit of building up business relationships, and in 1949 he had the Ever Readys signed to Bob Shad's Sittin' In With / Castle Records labels in New York. By this point, the group was down to a quartet with Caston, Graves, Elbert Green and Frank Edwards. One single emerged – "I Can See My Savior" and "Standing (Sending) Up My Timber." Two other songs were probably recorded and may have been included on a Time LP during the 1960s. Poor labeling and lack of artist identity on the sleeve confused the issue.
In 2012, Sittin' In With issued a free website download with the above two songs included in a double CD collection. To cash in on the Oh Brother, Where Art Thou movie success, Bob Shad reissued the two Ever Ready songs on his Oh Gospel, Where Art Thou collection (Morada CD 102) in 2002.
In 1951, the fourteen-year-old Frank Edwards joined the Ever Readys. Caston was so impressed with Frank's voice he persuaded his mother that he would add him to the group on condition he would behave like a father to him.
Back to Robert Broussard's story. Some time around 1952, the Ever Readys came to Shreveport on a program that included The Golden Echoes. Robert was then an infrequent member of the group because of family obligations. The healthy sales of "Sending Up My Timber" had drawn a good crowd. The song attracted even more attention when it was covered by the 5 Blind Boys of Mississippi a decade along. When the Golden Echoes opened the show, Robert made quite an impression on Caston who asked him to join his group. But Robert did not have time enough to raise a family and go out with a professional gospel group. He still wanted to join, and after a period of badgering, his wife Mary Lou acquiesced.
At this point, the Ever Readys were composed of Willie Caston, tenor and manager who sometimes dabbled on baritone, Charles "Charlie Boy" Graves, all-round utility and string bass, Elbert Green, bass (who was occasionally substituted by Oakland, California's Lawrence "The Stick" Stickman), Fran Edwards, tenor, Robert Broussard, lead tenor, plus a sit-in soldier remembered only as "Fred." Willie Caston's shrewd business deals enabled the Ever Readys to travel throughout Louisiana and Texas, appearing at churches and auditoriums in Shreveport, Monroe, El Paso, and Houston. Although the group traveled with The Bells of Joy from Austin, they did not appear on multiple artist programs often.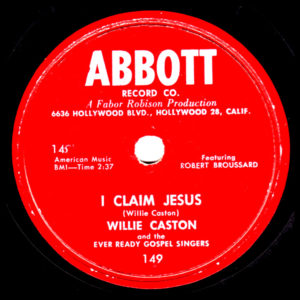 In November 1953, Caston managed to wrangle a recording contract with Fabor Robinson's Hollywood-based Abbott records. Gospel quartet music was in the process of shifting from single musician accompaniment into a more complex, full rhythm section. In the Ever Readys' case, support from additional piano, guitar and drums or piano, upright bass and drums. Two Abbott singles came about in late November 1953, three songs driven by Robert plus "When The Moon Goes Down" headed up by Charles Graves on the underside. Robert laid down a tough tenor on "I Claim Jesus (First.)" The overall sound was polished, professional, and in the prevailing sanctified style of the time.
The second release of spring 1954 gave us "Jesus, I Love To Call His Name," a song of traditional origin arranged by Caston and lead in song by Robert and filled with tight, clever harmonies. The reverse side gave us Robert's soul-lifting measures on "One Of These Mornings," which screams along at a rapid clip. Aurally, both tunes could have captured the market had Fabor Robinson had the grease to promote them.
By the close of 1953, Robert found that family commitments had risen to the top of his immediate priority list. As Mary Lou asserted, a large family required a steady job with a regular income. Robert wound up with five children – three boys and two girls. Sadly, he lost his eldest son in childhood. Robert returned to his family in Shreveport and found a job as a waiter at The Washington Erie Hotel. He kept in touch with Willie Caston and the boys who moved on to record four fine releases on Johnny Mercer's Capitol imprint in Hollywood. But Robert was bitten by the bug and his sojourn barely lasted a year.
Towards the close of 1954, and against his wife's wishes, Robert had Caston introduce him to James Hill, manager, baritone and principal driver for the Skylarks, an offshoot of The Fairfield Four out of Nashville. The Rev. Robert Crenshaw was planning to leave the group to return to his ministry in Memphis. James Hill was looking for a tough, hard-singing lead. It is not known how Hill managed to financially persuade Robert out of a steady job, but he did.
The rift in the Fairfield Four of Nashville came about in 1950. Professional differences disrupted the smooth progress of the group's goals. Out-of-town members pressured to keep the outfit nationally exposed through continuing coast-to-coast tour schedules. Locally-based Nashville members, on the other hand, were content with a touring venue that did not take them away from families and friends for long periods of time. To complicate matters, a substantial amount of the quartet's "operating funds" were invested in the Fairfield Four Funeral Home on Lafayette Street. After a promising start, the home failed to make enough money to keep it solvent.
Issues came to a head during the winter of 1949-1950. Severely disillusioned baritone Edward "Preacher" Thomas, basso Isaac "Dickie" Freeman and James Hill broke away from the rest of the quartet. With the enlistment of tenors Willie Jefferson and Wilson Paige, the five formed the split-away Skylarks, a name most likely derived from the symbolic reference to the species of songbird that flies spirally upwards in song. The freshly formed quartet almost immediately relocated to Montgomery, Alabama. A year later they were touring extensively.
By the spring of 1951, the Skylarks had signed up with Ernie Young's Nashboro label on Nashville's Third Avenue North. On Nashboro, the Skylarks enjoyed an off-and-on sixteen-year relationship. Edward "Preacher" Thomas quit the group in 1952, and by 1953 the Skylarks had undergone major changes. Wilson Paige had left and Lindsay Starks had replaced him. Thomas was temporarily replaced by Rev. Robert Crenshaw, a thunderbolt tenor preacher, formerly of The Swan Silvertones. The Swans replaced Crenshaw with the formidable Dewey Young. Robert took the place of Crenshaw. The physical make-up of The Skylarks at this time was Willie Jefferson, Lindsay Starks, tenors, James S. Hill, baritone, and Isaac "Dickie" Freeman, basso.
Robert made his debut singing "Call You In The Morning" / "Letter From Jesus," the group's eleventh single release of January 1955. "Call You In the Morning" (otherwise known as "Jesus, I Love To Call Your Name") is a mid-tempo song anchored by a heavy offbeat chant. The underside, "Letter From Jesus (I Got A Letter This Morning)," is rendered with a strong rock and soul feel and exuberant spirit. Ernie Young failed to get the release reviewed in Billboard even though it surely deserved one.
The group had to wait four more months for Robert's follow-up, "I Love the Lord," a hard-sung ballad loaded with righteous screaming and shouting. The reviewer at Billboard was certainly not moved by the spirit and only awarded it a single star rating.
Robert's "He's My All And All" surfaced in November 1955 but again failed to find review in Billboard. At this juncture, The Skylarks were composed of Rev. W.L. Richardson, tenor, Robert Broussard and James S. Hill, baritones, and Isaac "Dickie" Freeman, basso. Robert gives "He's My All And All," a joyous mid-tempo single, his guttural best. It found reissue of their Nashboro album Good News (Nashboro LP 7058) in 1967. An expanded CD re-release was put out by AVI Music in 1995 with yours truly's liner notes. After the poor release figures of "Come In At The Door," a mid-tempo chart shared by the basement pipes of "Dickie" Freeman and "Gonna Help The Needy," a strong bouncer in July 1956, Ernie Young decided not to renew the group's contract.
Despite disappointing disc success, the Skylarks still drew large audiences wherever they appeared. They played auditoriums in Philadelphia and Detroit and heading South drew large crowds in the Carolinas, Georgia, Louisiana and Mississippi. They played on programs with the Soul Stirrers, Rev. Cleophus Robinson, Swan Silvertones, Meditation Singers, and others. They showed up on a bill in Norfolk, Virginia, with the Caravans and Davis Sisters.
However, pressing family commitments again drew Robert back to family life. Robert quit the unpredictable survival on the road and returned to Shreveport. Back in Shreveport, Robert kept his hand in with occasional weekend gigs with his old pals in the Ever Ready Singers. In 1956, the original Ever Ready Gospel Singers had a chance to record for Bro. Cecil Shaw's Shaw label in Atlanta, but for one reason or another, nothing was ever released. Make-up of the group is unknown.
In December 1958, Rev. W.L. Richardson, Isaac "Dickie" Freeman, James Hill, and other long-term members of the Skylarks got together and cut one session for Ernie Young in Nashville. Two songs were released as Nashboro 637 in March 1959, and a third composition came to light when it and the previous two issued songs were reissued on The Best of The Skylarks CD (AVI 4005) in 1995.
In December 1959, Robert Broussard recorded his most exceptional single for Don Robey at Peacock Records in
Houston. Apart from Robert, other Ever Ready soldiers included Elbert Green, Willie Caston, Charles Gray (or Greaves), Fred Smith and Frank Edgeway. The songs, Robert's own "He'll Bring Peace," and Charles Greaves' "All My Sins," are considered Robert's finest moments. The single was released over the Christmas season. "All My Sins" was given a four-star pre-release rating by Billboard. The song "All My Sins (Are Taken Away)" is a jump rhythm scorcher that builds to a point where one expects a sermon-like closing narration. You can bet your life that when the song is sung in a church setting, Robert would end the song with a cleansing prayer.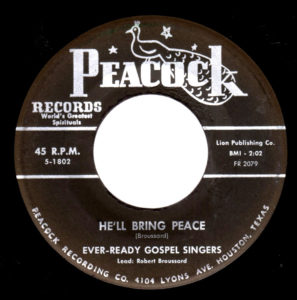 "He'll Bring Peace" is a waltz-time burner metered with cool close harmony in assist to Robert's pleadings and implorations. Here, too, the song ends prematurely at just over two minutes, before Robert really got a chance to do it righteous justice. For all of that, it is a fine shout-style presentation. The plan, as is so often the case, was to tease that sinner into lifting his expectations to a place where he might expect an ultimate breath-taking pinnacle of human vocal chord capacity.
Caston quit the Ever Readys in 1950 to create more time to manage his gospel deejay programming. Elbert Green assumed the mantle of group manager in his place. Elbert passed in 1977 after a lengthy illness. In 1961, the Ever Readys secured a slot on KSLA-TV. Rev. Amos Terrell had managed to get them on the Hallelujah Train show, an annual telethon. The show survived up until the mid-1980s. Robert continued to record with the Skylarks on Nashboro during their sporadic 1962, 1965, and 1967 sessions. Songs were drawn from these sessions for their Best Of CD of 1995 and their Good News album of 1967. Used copies of these often show up on the internet.
As for the Ever Readys, they cut one single for Custom Sound in 1985 and for Southern Star that same year. The Union Of The World CD collection was issued on BGB in 1997. During the closing years of the last century, touring for the Ever Ready Gospel Singers had been primarily reduced to performances at retirement homes, churches throughout Louisiana, Arkansas and Texas, plus the occasional festival.
Robert shared with me one unfortunate and harrowing experience with the Skylarks while on the road. One winter, the Skylarks were driving to Indiana through icy conditions with James Hill at the wheel. Hill suddenly lost control of the steering and the sedan in which they were riding spun like a top into a ditch. Luckily, no one was hurt. You can bet that prayers of thankfulness were plentiful that day.
Robert's son Shane, who lives in the San Francisco Bay Area, keeps alive the memories he has of his father who he says died from complications attendant to diabetes some six years ago.
— Opal Louis Nations, March 2005 & August 2021
From unpublished interviews with Robert and Shane Broussard and Lawrence Stickman plus historical detail from Dan Garner
Written by : Bob Marovich
Bob Marovich is a gospel music historian, author, and radio host. Founder of Journal of Gospel Music blog (formally The Black Gospel Blog) and producer of the Gospel Memories Radio Show.