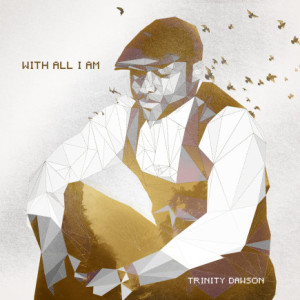 Trinity Dawson
With All I Am
New Day (2015)
www.trinitydawsonmusic.com
By Bob Marovich
Flexibility is a critical asset for a running back.
It certainly helped Tulsa, Oklahoma's Trinity Dawson. When he was a running back for the University of Toledo, flexibility helped him to enter the school record book for rushing yards.
Dawson's beguiling tenor voice is just as flexible. It is, in fact, the ideal vehicle for the easy, ambient religious music that he has embraced and showcases on his debut album, With All I Am.
Dawson's sound falls somewhere between Jonathan McReynolds and John Legend, the latter an acknowledged influence on the college football star turned singer-songwriter. The musical mark of other inspirations, such as Israel Houghton, Hillsong United, and Micah Stampley, can also be detected in the easy, flowing disposition of the album's songs and arrangements. Working for the most part without background vocalists—the harmonies are Dawson's voice multi-tracked, equally compelling singer Aaron Sledge's voice multi-tracked, the two together, and so forth—the album's overall feel is one of austerity. "You're All I Need" even has a symphonic flow.
The a cappella title track is Dawson's opening prayer over the proceedings. He gives everything he has unto the Lord, then launches into "I Win," an EDM-drenched affirmation to leave the past behind and move forward. Like "With All I Am" and "I Win," songs on the album elide, giving the overall tone that of a personal, intimate journey toward a tighter relationship with Jesus.
Still, one can't help but feel an aching loneliness hovering over the songs, even when they articulate messages of praise and inner strength. For example, "I'll Wait" is a promise to stay faithful to God's word in the midst of life's trials.  The single, "Not That Easy," is another commitment to staying the course.
Inner strength or no, there is a vulnerability in the way Dawson sings these and other songs on the album. Perhaps the constant tug-of-war between courage and helplessness, something we all contend with, if we're being honest, is exactly what endears listeners to With All I Am.  The album is nothing if not honest.
Four of Five Stars
Pick: "Not That Easy"
Written by : Bob Marovich
Bob Marovich is a gospel music historian, author, and radio host. Founder of Journal of Gospel Music blog (formally The Black Gospel Blog) and producer of the Gospel Memories Radio Show.