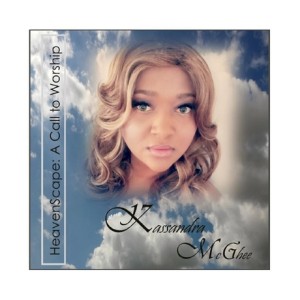 Kassandra McGhee
Heavenscape: A Call to Worship
(release date: August 28, 2015)
www.mypower4living.com
By Bob Marovich
Ten tension-taming tracks comprise Evangelist Kassandra McGhee's latest album, Heavenscape: A Call to Worship. True to its title, and in keeping with McGhee's work as a praise and worship singer in and around Chicago, the songs in lyric and arrangement are all about vertical praise.
It is clear from the opening selection, "Prelude of Worship," that McGhee's songwriting and voice have matured greatly since her 2009 release, Completely. First off, she is a more confident soprano, showing greater strength and support, but not to the level of an evangelist's iron lungs. She's just not that kind of singer. Rather, McGhee sings sweetly, gracefully. She delivers a delicate song such as "Surrender to Destiny" in an almost lullaby voice. At other times, she approaches grace notes like Faith Hill or the late Whitney Houston, and glides on a melody like Yolanda Adams, but without the melisma.
While a spirit of meditative calm envelops the album, "Worship At Your Throne" possesses a pop sensibility that demonstrates an understanding of modern song construction. The best example of McGhee's craft is "Upraised," which has the kind of melody you swear you've heard before, yet all the songs on the project are McGhee's own and have not been covered by anyone else to date.
Heavenscape: A Call to Worship is Kassandra McGhee's best work yet: a meditative, hypnotic collection of songs that one might assume are part of a whole, given the title and the project's overall ambience, but they can certainly stand on their own.
Four of Five Stars
Pick: "Upraised."
Written by : Bob Marovich
Bob Marovich is a gospel music historian, author, and radio host. Founder of Journal of Gospel Music blog (formally The Black Gospel Blog) and producer of the Gospel Memories Radio Show.