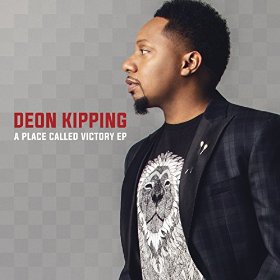 Deon Kipping
A Place Called Victory EP
RCA Inspiration (January 8, 2016)
www.rcainspiration.com
By Bob Marovich
Connecticut's Deon Kipping stepped into the gospel music spotlight first as a songwriter (with JJ Hairston & Youthful Praise's "Incredible God, Incredible Praise") and as a featured vocalist almost immediately thereafter (on "Incredible God, Incredible Praise"). From there, his music and singing took him to the Billboard charts.
A Place Called Victory is Kipping's latest release and as an EP, it is a foretaste of a full album soon to follow. The four selections are well chosen because they are all effervescently sung by Kipping and his exceptional group of background vocalists, and are aerobically supported by a thumping band.  The songs also have a common thematic element: victory, whatever that might be for the listener, awaits, but only by holding fast to belief, even when things look dire.
On the title track and current single, Kipping and his singers direct their call-and-response not so much to one another but to the listener. They headshakingly acknowledge commonalities with the listener ("we've been there") and the inference is that if the Lord helped us make our way to the other side, He will help you, too. "By Myself," the forthcoming single, continues this mantra with a flowing, melodic, almost hypnotic air. As the performance progresses, the background vocalists maintain the melody as Kipping improvises in his flexible tenor. "By Myself" is the strongest track on the EP and is the year's first contender for JGM's Best of Singles list.
The struggle to believe in the midst of life's storms appears again as the theme of the march-tempo "The Blessing Is Yours," while "I Want It All" possesses the jittery swagger of Deitrick Haddon's work.
In A Place Called Victory, Deon Kipping and company are not only suggesting that your blessing is just around the corner—you may already be standing in it and not know it.
Four of Five Stars
Pick: "By Myself."