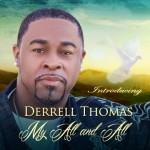 "My All and All"
Derrell Thomas
Full Circle Records
www.fullcirclerecords.us
Commencing with a compelling piano intro that resonates with Elton John's deftness for encircling a melody with bright and shiny musical jewels, Derrell Thomas's "My All and All" offers a melody and chorus that combine to be one heck of an earworm.
Lyrically, the single gushes with simple statements of praise to the Lord. The Lord is not just a friend, Thomas sings, but "the very air that I breathe…my everything." There's not much to it, but the song works largely because of that relentless earworm melody.
Born in Florida, Derrell Thomas has been a member of the New Christianaires and released a solo single, "Hey Daddy," a celebration of the father's role in the family. Full Circle Records was founded by James Watkins, a member of Bill Pinkney's Original Drifters and father of Tionne "T-Boz" Watkins, lead singer and the "T" in the hip hop trio, TLC.
Written by : Bob Marovich
Bob Marovich is a gospel music historian, author, and radio host. Founder of Journal of Gospel Music blog (formally The Black Gospel Blog) and producer of the Gospel Memories Radio Show.