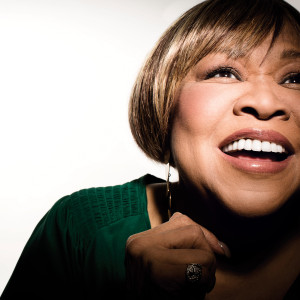 Mavis!
Produced and Directed by Jessica Edwards
www.mavisfilm.com
Airs Monday, February 29, 8:00 p.m. CT (HBO)
By Bob Marovich – Journal of Gospel Music
Mavis!, the first full-length film to chronicle the life and artistry of Mavis Staples and the Staple Singers, is one of the most entertaining, moving, and informative music documentaries I have seen in a while.
Over the past year, this biopic has crisscrossed the country and the world, screening for film festivals and special gatherings, such as the one I attended last Monday at Chicago's DuSable Museum of African American History. The film will finally make its way from festivals to living rooms when it airs on HBO on Monday, February 29.
Concurrently, Mavis will release her new CD, the M. Ward-produced Livin' on a High Note, this Friday.
Director Jessica Edwards's lens captures Mavis's rise from preteen gospel thrush as part of family group the Staple Singers to soloist, cultural icon, and chief evangelist of message music. Edwards follows the Staples' story as faithfully as if it were a direct adaptation of Greg Kot's Mavis biography, I'll Take You There.
What we discover watching Mavis! is that family patriarch Roebuck "Pops" Staples learned his distinctive guitar style by emulating country blues artists such as Charley Patton while working on the Dockery Plantation in Mississippi. But picking up guitar tips was the only benefit of working in those conditions. Like many southern African Americans in the 1940s, Pops sought to better his family's future by moving everyone to Chicago's South Side. It was in the family living room in Chicago's culturally vibrant Bronzeville community that Pops began informal gospel music singalongs with his children. Those singalongs gave birth to the Staple Singers and, ultimately, to the mélange of gospel, folk, and soul that became a musical touchpoint of the 1960s civil rights and black pride movements.
Most of all, Edwards's documentary captures Mavis's humility. There are no star tantrums, no turning to substance abuse, no re-emergence through holistic teaching that are such a part of music retrospectives today as to become cliché. Just the opposite is true: sixty years after her luminous lead on "Uncloudy Day," Mavis still appears surprised to be the focus of so much adulation. It was Pops, she says, who instilled in his children the importance of humility. Indeed, it is Mavis's everyday-people simplicity, as well as her deeply affecting alto, that enchant her audiences and certainly won over the viewing audience at DuSable.  The live performances interspersed throughout the documentary received applause from the DuSable audience.
There were plenty of moments to applaud. During a performance of "Freedom Highway," for example Mavis sings, shouts, evangelizes, and encourages. Her musicians back her with a mixture of admiration and concentration. They have to work at it; Mavis makes it look effortless.
Edwards keeps the tempo of the film moving by incorporating an amazing array of interviewees, including Bob Dylan, Bonnie Raitt, Jeff Tweedy, Marty Stuart; and video clips, the most interesting of which are Prince producing Mavis and snippets of Staples home movies that show the group on tour.
The documentary is historically and factually sound, although it is doubtful that "Uncloudy Day," the Staple Singers' 1956 hit for Vee Jay, was (as reported) the first gospel record to sell a million copies. That is more likely to have been achieved by Mahalia Jackson's 1947 "Move On Up a Little Higher."  But as spurious as reported sales figures were during the reign of the fabled "record men," who really knows?
Two scenes toward the end of Mavis! are especially worth noting for their poignancy. The first is Mavis's visit with a Levon Helm visibly weakened from cancer treatments (the Staples appeared in The Band's The Last Waltz, another phenomenal music film); and the second is Mavis's emotional response to hearing Pops's voice on the album he recorded just before his death, an album remixed by Jeff Tweedy of Wilco. The omnipresence of sister Yvonne as the quiet, matter-of-fact straight woman to enthusiastic Mavis served as ongoing comic relief.
Mavis! the documentary is as much a joy and a celebration of life as Mavis the woman.
Written by : Bob Marovich
Bob Marovich is a gospel music historian, author, and radio host. Founder of Journal of Gospel Music blog (formally The Black Gospel Blog) and producer of the Gospel Memories Radio Show.