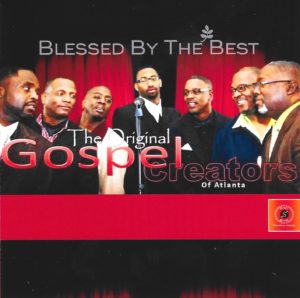 The Original Gospel Creators of Atlanta
Blessed by the Best
Sharper Brothers Records (2016)
www.sharprecordsusa.com
By Bob Marovich
The Original Gospel Creators of Atlanta deliver a decent album in Blessed by the Best.
Buoyed by crisp electric guitar work from Terrain Foster (first cousin to the Five Blind Boys of Mississippi's Sandy Foster), the ten selections find the quartet toiling lyrically and melodically in a traditional bent, though the tracklist includes new songs as well as old favorites.
One of the new songs, "Oh Lord," is an unabashed request for Jesus to return. It opens with a cappella singing and transitions to a mid-tempo clap-and-stomp beat. The singers rue about shootings in the church and "murders everywhere," and can't wait for the Second Coming when Jesus will change things for the better. Popular church maxims propel the title track and "He Lives," the latter about God's life-giving power made manifest.
Organized in 1998 by Terrain Foster, Lawrence Dean, and Anthony Kelly, the Original Gospel Creators added more members the following year and hit the gospel highway. Since then, the quartet has toured extensively and, starting in 2001 with Standing in the Need of Prayer, recorded several albums for various record companies.
The quartet's version of "This May Be the Last Time" is a revisiting of the classic gospel hymn used by protesters during the Civil Rights movement to stave away the fear they felt in prisons and prior to major campaigns. Here, the Gospel Creators consider that this could be the last time "that we all sing together." Nevertheless, the driving "Got to Have Faith," with its funky guitar intro, reminds the listener that no matter what the future holds in store, we cannot face it alone. And if you don't know what faith is, the Original Gospel Creators are there to remind you during the audience-engaging "Anybody Know what Faith Is?" "God Has Smiled on Me" is a soulful rendering of another gospel chestnut.
Blessed by the Best showcases a group that, although young by quartet standards, demonstrates more than a modicum of lyrical mother wit and musical acumen gained by participating actively in the gospel music circuit.
Three of Five Stars
Picks: "Oh Lord," "Got to Have Faith."
Written by : Bob Marovich
Bob Marovich is a gospel music historian, author, and radio host. Founder of Journal of Gospel Music blog (formally The Black Gospel Blog) and producer of the Gospel Memories Radio Show.