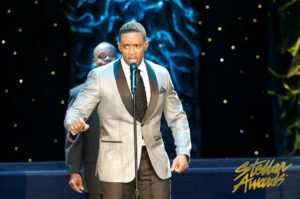 "You Covered Me"
Pastor Marlon Lock
Available digitally
www.pastormarlonlock.com
Stellar-nominated gospel artist Pastor Marlon Lock of Milwaukee delivers a gentle contemporary ballad about how he got over: it was all because of God's protective covering.  Lock delivers this forthright declaration with melodic tenderness but he's moved by the end to shout a little for having gotten over.
Lock's quartet-flavored "He Delivered Me" was not only a Pick of the Week last year but became one of the Journal of Gospel Music's top 10 gospel singles of 2015.
"Pastor T," as Lock is affectionately known, pastors the church his grandfather founded: Unity Gospel House of Prayer in Milwaukee.
Written by : Bob Marovich
Bob Marovich is a gospel music historian, author, and radio host. Founder of Journal of Gospel Music blog (formally The Black Gospel Blog) and producer of the Gospel Memories Radio Show.