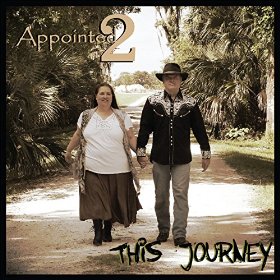 Appointed2
This Journey (2014)
www.appointed2.com
By Bob Marovich
Husband-and-wife music evangelists Randy and Amy Nichols are part of a tradition going back nearly a century, and perhaps longer.
The difference is that back in the day, evangelists sang and played stringed instruments on street corners. The Nichols's, known as Appointed2, perform at pulpits and on stages, just as they did at the recent Rhythm of Gospel Awards, where they took home two honors, including CCM Artist of the Year.
Their ten-track, thirty-minute album This Journey provides a flavor for Appointed2's down home evangelism. Again, like their forebears, Randy and Amy sing about salvation earned and salvation encouraged. Songs such as "Yesterday's Gone" are a determination to not repeat the sins of the past. "I Was Running" and "Sometimes" are as rueful about bad decisions of the past as they are grateful for second chances.
The duo's string band soundtrack sounds straight outta old Nashville but it was actually recorded in North Carolina. Nice country harmonies complement the title track as well as the album's highlight, "Don't You Want to Go Too." One can almost hear Kenny Chesney or Vern Gosdin singing this easy, melodic evocation of heaven and how salvation is the way to experience it.
Appointed2's motto is "high energy gospel," and they demonstrate that like a bluegrass band on fire on the final selection, the country bluesy "Do a Little Praying." This depiction of the soul-satisfying experience of going to church and praying could have gone on for much longer.
If you enjoy old-time country harmony and string band gospel like the Wilburn Brothers or the Whites, you will enjoy This Journey.
Three of Five Stars
Picks: "Don't You Want to Go Too," "Do a Little Praying."