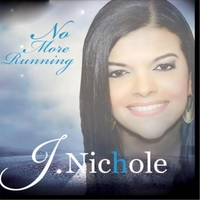 "Blessing Me"
J. Nichole
From No More Running (released October 2014)
www.myjnicholesong.com
Juliet Nichole Jones, aka J. Nichole, has a huge, soulful voice that is equally suited for sacred and secular music. Her original aspiration was to sing pop, but when she rededicated herself to the church, gospel music won over.
To a subtly thumping beat, the swaggering "Blessing Me" finds the singer declaring how she has received God's blessings, despite her worthiness or unworthiness. Top-shelf production and a powerful voice combine to make this a stunning selection.
From Pennsylvania, J. Nichole is the 2013 Newsome Award Winner and 2014 Gospel Blue Mic Award Winner for Best Female Independent Artist of the Year. When she is not singing, J. Nichole assists a number of nonprofit organizations that help students, families, and mothers.
Written by : Bob Marovich
Bob Marovich is a gospel music historian, author, and radio host. Founder of Journal of Gospel Music blog (formally The Black Gospel Blog) and producer of the Gospel Memories Radio Show.