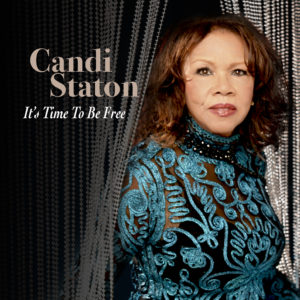 Candi Staton
It's Time to Be Free
Beracah Records (release date: July 22, 2016)
www.candi-staton.com
By Bob Marovich
Like Mavis Staples, Canzetta "Candi" Staton made her professional music debut in the 1950s as a member of a gospel group, and later broadened her reach into popular music by employing Muscle Shoals rhythm sections.
The two women, born less than a year apart, have been recharging their careers with albums that channel a wisdom and experience as evident in the muskiness of their voices as in the song lyrics.
It's Time to Be Free, Staton's first gospel album since 2008's I Will Sing My Praise to You, gives her longtime disco fans a few EDM-fueled inspirational anthems, sassy blues for her R&B fans, and churchy gospel for the saints. There are remixes of her gospel/disco tracks, "You've Got the Love" and "It's Your Season."  African rhythms and harmonies flavor "Some Call It Mercy," on which Staton tells how grace saved her life.  The title track has an autobiographical feel as Staton sings: "Time don't wait for no one / I've given too much of me. . .now I'm free."  Teaching moments abound in the bluesy humor of "Cleaning Out My Closet."
But as natural as it is for Staton, whose 1976 "Young Hearts Run Free" was a disco smash, to sing inspirational dance songs, and as socially conscious as the lyrics are, the most appealing aspect of the album comes in the album's last quarter.  The churchy songs at the end are the album's most revealing, as Staton peels back the plastic veneer of EDM to expose her vulnerability.
To a warbling organ, "I Made It This Far" is straight-up testimony, as is "That's All I Can Do."  "Can't You Hear Him Calling" continues the album's theme that Jesus is the solution to life's problems by noting that he is there even until the end, welcoming believers home.  "Behind the Veil of Silence" is a chilling reminder of the lasting wounds of domestic abuse.
It's Time to Be Free offers examples of the many-sided music resume of Candi Staton, but the gospel tunes conquer all.
Four of Five Stars
Picks: "I Made It This Far," "It's Time To Be Free."
Written by : Bob Marovich
Bob Marovich is a gospel music historian, author, and radio host. Founder of Journal of Gospel Music blog (formally The Black Gospel Blog) and producer of the Gospel Memories Radio Show.