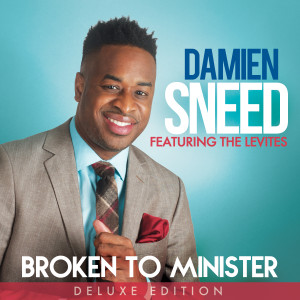 Damien Sneed Featuring the Levites
Broken To Minister: The Deluxe Edition
LeChateau Earl Records (release date: March 3, 2015)
www.lechateauearl.com
By Bob Marovich
Recorded live in Baltimore, Maryland, in 2013, Broken To Minister: The Deluxe Edition builds on Damien Sneed and the Levites' previously released Broken To Minister EP.
The classically- and church-trained Sneed is a member of the orchestral school of gospel music populated by artists such as Richard Smallwood, Donald Lawrence, and the late Thomas Whitfield. In this school, lush, dense vocal harmonies combine with astute songwriting and arranging to present gospel music at its most contemporary while accenting the vitality of its roots.
The group's cover of Smallwood's "Secret Place" is proof positive. A Roberta Martin-inspired piano intro opens this lovely ballad sung passionately by Chenee Campbell, a member of the Levites, Sneed's vocal team. The Levites are an ensemble of talented singers such as Campbell, each capable of leading as well as supporting.
"Let It Be To You" is a smart praiser with mantra like power, ideal for a church praise team. James Ziegler does a fantastic job leading the encouraging "He Won't Fail You."
On the other hand, the single "Call Him by His Name" is an old-fashioned wooden church congregational song where handclapping and foot stomping are all that is needed to keep the beat. "It Will Come to Pass" is a pewburner that declares "If God said it, that settles it."
The second of the two-CD Deluxe Edition, which is the best way to hear this album, contains the title track and single release. It is a Sneed-led vocal that explores an almost Dostoyevskyan theme of the transformative power of pain. Sneed, who co-wrote the song with Linwood Smith Jr., argues that pain itself is a balm that brings about anointing, which in turn destroys the hurt.
At ten-plus minutes, the "Unscripted Praise Break" may go down in history as being one of the longest praise breaks captured on record, at least in recent times. The tape rolls as congregants sense the Holy Ghost has entered the room, an experience often truncated on live recordings but presented in its entirety here. The EP ends with the "Adore Him Medley," which blends the chorus of "O Come All Ye Faithful" with other adoration songs.
Broken To Minister is everything that is wise and wonderful about gospel music.
Check out JGM's recent interview with Damien Sneed to learn more about the artist and his philosophy of music.
Five of Five Stars
Picks: "Call Him By His Name," "Broken To Minister."