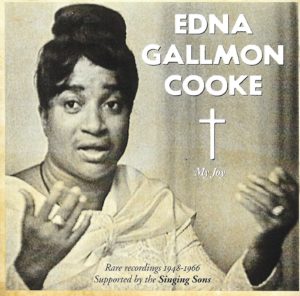 Edna Gallmon Cooke
My Joy: Rare Recordings 1948-1966
Gospel Friend (release date: February 27, 2017)
www.gospelfriend.com
By Bob Marovich
Edna Gallmon Cooke may be one of the most underappreciated female vocalists of gospel's Golden Age.
Although her voice was small when compared to belters like Mahalia Jackson, Emily Bram-Bibby, and Ernestine Washington, what Cooke lacked in volume she made up for in finesse. She stirred church congregations by starting her performance soft and slow and building to a fiery crescendo. She knew when to shout, when to drop into a bluesy disposition, when to evangelize, and how to work with accompanying singers. It didn't matter whether it was a young people's choir, a male choir, or a quartet—Madame Cooke was as comfortable with them as she was singing solo.  And for recording short song-sermonettes, she was a pioneer.
But with the exception of a 1995 Nashboro/AVI CD compilation of Nashboro sides, Cooke's catalog had, until recently, remained largely unplumbed. Then in 2015, Acrobat Records released an extensive two-CD retrospective spanning Madame Cooke's recording career from 1949 to 1962.
The most recent salute to Madame Cooke comes from Per Notini's Gospel Friend label. My Joy: Rare Recordings 1948-1966 is a 25-track collection that endeavors to fill as many reissue gaps as possible left by the Nashboro and Acrobat CDs while including key recordings, such as her 1952 sides "Amen" and "Nobody to Depend On."
Of special note is My Joy's inclusion of Cooke's rare Merit sides with the Sunset Harmonizers: "Just Hold On" and "Going to that City." Her 1949 radio hit, "Angels, Angels, Angels" (aka "Angels Get My Mention Ready"), accompanied by the accomplished Mt. Vernon Men's Choir, swings with such an infectious vaudeville-like gait that I wish the team had done more recordings together.
A revelation is the piano work of Marjorie Cheeks on Cooke's 1952 and 1953 selections, most notably "Have You Got Room," with the Springfield Baptist Church Young People's Choir. The spouse of the legendary quartet singer Reverend June Cheeks, Marjorie was fierce on the piano, playing like she took lessons from Thomas A. Dorsey. A video exists of Marjorie playing piano standing up, hitting keys with her elbows, and providing the showmanship that Jerry Lee Lewis and Little Richard employed in rock-and-roll and R&B. A fascinating figure, Marjorie also deserves much greater attention.
The album notes draw in part from Judy Cheeks' book, Love and Honor – The Life of Rev. Julius Cheeks, which details Cooke's marriage to quartet veteran Barney Parks and her connection, through Parks, to the Singing Sons. The Sons have so captured Gospel Friend's heart that My Joy features two of their Nashboro sides sans Cooke. With roots in the Dixie Hummingbirds, the Singing Sons have a hard-edged harmony that takes no prisoners.
As usual, Gospel Friend offers expertly remastered selections in a handsome package with learned liner notes. Madame Cooke would be pleased, and so will you.
Five of Five Stars
Picks: "Angels, Angels, Angels," "Have You Got Room"
Written by : Bob Marovich
Bob Marovich is a gospel music historian, author, and radio host. Founder of Journal of Gospel Music blog (formally The Black Gospel Blog) and producer of the Gospel Memories Radio Show.