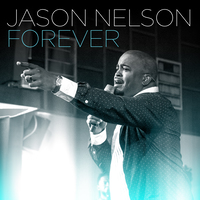 "Forever"
Jason Nelson
From the CD The Answer
RCA Inspiration (release date: January 12, 2018)
www.rcainspiration.com
By Bob Marovich
A song birthed as an improvisational line sung by Jason Nelson's wife Tonya in their kitchen has become the first radio single from the singer-songwriter and pastor's forthcoming CD, The Answer.
"Forever" is a passionately sung melodic ballad, from God's point of view, on the constancy of His support and the extent of His love. "Forever is a long time / But that's how long I'll love you," Nelson and his background vocalists sing. "No matter what you face, you won't be lonely."
Lullaby-like in its lyric, "Forever" is an article of faith for any parent, celestial or human.
The muscularity of Nelson's voice will put the listener in mind of Minister Phil Tarver (Shekinah Glory Ministries) and Bishop Marvin Sapp. The Sapp influence is not coincidental: the former member of Commissioned has benefited from Jason Nelson's songwriting.