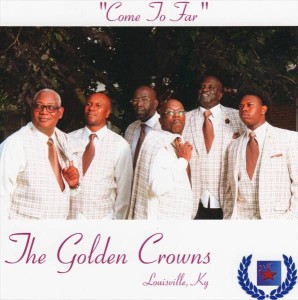 The Golden Crowns of Louisville, KY
Come Too Far
Sharp Records (2015)
www.reverbnation.com/thegoldencrowns
By Bob Marovich
Don't let the flagrant typo on the cover and CD scare you away. This is a case when the book should not be judged by its cover.
As they demonstrate on their new Sharp Records CD, Come Too Far, The Golden Crowns of Louisville, Kentucky, are as good as any of the popular recording quartets on the road today. Their harmonies are tight, the lead singing crackles with emotion, the band is strong, though the use of synth in this and any gospel quartet, regardless of the talent of the player, results in a polyester sound that pulls from, rather than enhances, the music's authenticity.
Nevertheless, the seven-track EP opens powerfully with the title cut, a crowd-grabbing drive selection led by the shouting vocals of lead singer Howard McFadden Jr. Riffing on the "come too far" motive, "Come a Long Way" is sung with plaintive passion. Other selections traverse similarly traditional quartet territory, interjecting classic gospel clauses and phrases in songs about gratitude ("Everything I Have"), mother gone home ("Waiting and Watching"), and the day of one's salvation ("Since I Met Jesus").
The Golden Crowns give the chestnut, "Where Shall I Be" (aka "Where Shall I Be When the Last Trumpet Sounds") a smooth reading, suggesting the calm confidence of those who are spiritually prepared for the end of days.
The group's professionalism is explained during the introduction to a multi-song retrospective simply called "The Medley." Here we learn that the Golden Crowns go back 77 years, first organized in Bowling Green, Kentucky, as the Shanklin Brothers.
According to the latest edition of The Gospel Discography, the Golden Crowns made one 45 each for the Wonderful and BJ labels. Seventy-seven years is a long time to be on the gospel highway, but here's hoping that the group's new CD attracts the attention of those who can take them the next mile of the way.
Three of Five Stars
Pick: "Come Too Far"
Written by : Bob Marovich
Bob Marovich is a gospel music historian, author, and radio host. Founder of Journal of Gospel Music blog (formally The Black Gospel Blog) and producer of the Gospel Memories Radio Show.