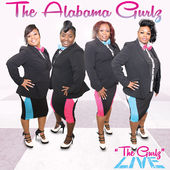 "Heaven Belongs to You"
The Alabama Gurlz
From 4 Winds Records CD "The Gurlz" Live (2014)
www.malaco.com
"Y'all ready to go to church?" Stephania Johnson asks the church audience kindly. Not receiving a proper response, she growls in frustration: "Y'all don't want to go to no church with me!"
That does the trick, and the congregation connects with the Alabama Gurlz as they commence with "Heaven Belongs To You," an evangelistic call-and-response with a jaunty tempo and led by Johnson with demonstrative insistence. The premise is simple: Heaven is yours to lose. It is a singular example of the ladies' exuberance in live performance.
Engineered by the always-capable Ray Braswell Jr., "Heaven" is from the Alabama Gurlz's 2014 debut album for Malaco/4 Winds. Organized in 2004, the Alabama Gurlz hail from Eufaula, Alabama. They are Ruby Glenn, Ashley Glanton, Keysa Hayes, and Stephania Johnson.
Written by : Bob Marovich
Bob Marovich is a gospel music historian, author, and radio host. Founder of Journal of Gospel Music blog (formally The Black Gospel Blog) and producer of the Gospel Memories Radio Show.