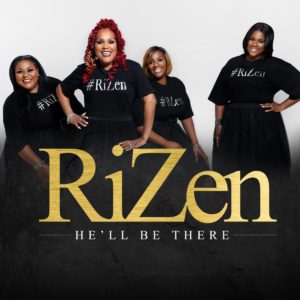 "He'll Be There"
RiZen
DAF Entertainment Group / Tyscot
By Robert M. Marovich
Although Adriann Lewis-Freeman has carved out a solo career, it's been a few years since the Stellar Award-winning RiZen vocal group has come together to release a new single. The drought is over with "He'll Be There."
Co-written by Adriann and her brother Ay'Ron Lewis (he also produced the track), "He'll Be There" is a song of encouragement set to an outsized musical foundation, though with clearly discernable traditional leanings.
The ladies harmonize first and then get downright evangelical on the vamp. After a recording hiatus of several years, Adriann, Aundrea, Ashley, and Kanika have definitely trumpeted their return. It should do very well on radio. That is to say, RiZen has risen!
Written by : Bob Marovich
Bob Marovich is a gospel music historian, author, and radio host. Founder of Journal of Gospel Music blog (formally The Black Gospel Blog) and producer of the Gospel Memories Radio Show.