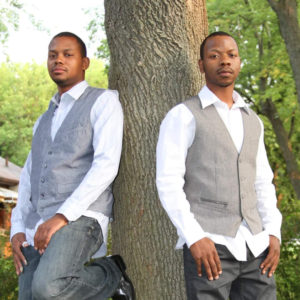 Instruments of Musick
Determination (EP)
Independent (release date: June 20, 2020)
By Bob Marovich
"Psalm 33:2," a track from the Instruments of Musick's Determination, is a rousing sacred steel-led and non-vocal interpretation of "Praise the Lord with harp: sing unto him with the psaltery and an instrument of ten strings."
While the track, evocative of a Campbell Brothers jam, evokes the musical excitement of a praise break, it also serves as a motto for the ensemble's stringed-instrument music ministry.
Blood brothers Garvin and Gary "Fatman" McKinney of Detroit comprise the gospel band Instruments of Musick. Although Determination is not their first recording, it is their first EP. It consists of two instrumental and four vocal selections. Fatman plays pedal steel guitar and Garvin plays electric guitar, while three of their sisters—Talayna Pettigrew, Tia Randolph, and Tandra Toles—along with Fatman's wife Candace McKinney, assist on vocals.
The first track and second single, "Country Gospel," is one of the EP's two instrumentals ("Psalm 33:2" is the other). Fatman's keening pedal steel sounds as if it is experiencing a blissful moment of praise.
The ladies offer fine vocals. "Moving Forward" contemporizes the declaration, "ain't gonna let nobody turn me around," while "Sin Got Me in Chains" is a personal commitment to break free from sinful ways. The song's funky propulsion provides a foundation for Fatman's petal steel to chatter endlessly and for Garvin to offer a steamy guitar solo.
Like MercyMe's "I Can Only Imagine," "Can't Wait 'til the Day" is a wide-eyed evocation of the unexpected joys awaiting the saved in the hereafter. "Give It to You," the EP's bouncy, uncomplicated first single, gushes with unconditional love to the Most High.
The McKinney brothers cite Sacred Steel masters Calvin Cooke and Ted Beard, and guitarist Pierre Stevenson, as their influences. Makes sense. Overall, the Instruments of Musick is a wellspring of talented musicians and singers and Determination is a brief but enjoyable example of their excellence.
Four of Five Stars
Pick: "Psalm 33:2"
Written by : Bob Marovich
Bob Marovich is a gospel music historian, author, and radio host. Founder of Journal of Gospel Music blog (formally The Black Gospel Blog) and producer of the Gospel Memories Radio Show.