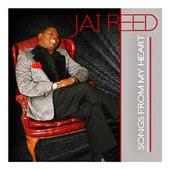 Jai Reed
K. Lamp Entertainment, LLC (2014)
Although he is a New Orleans guy, Pastor Jai Reed must still consider it a treat to sing in the Gospel Tent at the Crescent City's legendary Jazz and Heritage Festival. This year, he was on the program during the festival's first weekend, and no doubt performed selections from his new CD, Songs From My Heart.
Two components that emerge from the album are Reed's clear, melodic tenor; and quality songs from the pen of producer/musician/songwriter Kevin Lampton.
First the voice. Reed glides over the melody line with the same flexibility whether the song is P&W, contemporary gospel, or traditional.
Reed's sweet spot appears to be traditional gospel, exemplified by his aerobic interpretation of "TLC (Tender, Love, and Care)," which transitions into the equally old-school intro to "I Found a Friend in Jesus." "Miracles," written by Danielle K. Gardner, has all the traditional workings, from its 12/8 tempo to the bluesy melody and lateral praise lyrics. It would be great to hear Reed sing an entire album of classic gospels and hymns.
Then there are Kevin Lampton's songs, and all but one on the album are his. Two in particular deserve singling out. With a title that sounds culled from church vernacular, "Press, Pray, Prevail" was sung by Reed on K. Lamp Entertainment's Together in Worship compilation. It is a hymn of faith set as a mantra-like prayer. Similarly, "Praise Him" is a lovely, simple praise anthem particularly suitable for Easter or Christmas and ideal for a youth or children's choir.
Songs From My Heart extends Jai Reed's string of quality independently-produced projects.
Picks: "Press, Pray, Prevail," "Praise Him."