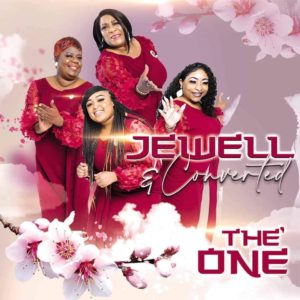 "The One"
Jewell & Converted
OverBoard Records (release date: April 9, 2021)
By Robert M. Marovich
Those who appreciate joyous gospel quartet music will welcome "The One," the latest single from the award-winning St. Louis quartet Jewell & Converted.
Jewell Taylor leads the female quartet on a litany of examples of Jesus's goodness and then transitions into the Passion. The ladies sing that if Jesus can be crucified, die, and rise from the grave, he can and will do anything for you.
There's much to enjoy here, from Taylor's boisterous vocals and the group's dynamic responses to heavy downbeats from the robust rhythm section. The song should carry the quartet along the gospel highway for some time.
In addition to Jewell Taylor, Jewell & Converted consists of Destiny Oliver, Bablen White, and Tisha Brown.
Written by : Bob Marovich
Bob Marovich is a gospel music historian, author, and radio host. Founder of Journal of Gospel Music blog (formally The Black Gospel Blog) and producer of the Gospel Memories Radio Show.