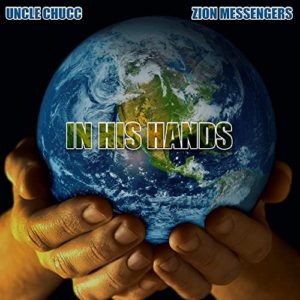 "In His Hands"
Uncle Chucc & the Zion Messengers
Uncle Chucc Music (release date: April 1, 2020)
By Bob Marovich
When Tyler Perry asked individuals to sing "He's Got the Whole World in His Hands" in a show of global solidarity during the COVID-19 pandemic, it seemed to come out of nowhere.
The spiritual, first published in 1927, entered international pop culture thirty years later when English singer Laurie London recorded it. Not to be outdone, Mahalia Jackson put out a single version. Like London's disc, Jackson's climbed up the pop charts. The song has been featured here and there, but it's usage has turned it into more of a folk song than a church song.
Nevertheless, several artists have taken Perry up on his offer, including the Zion Messengers of Los Angeles. The quartet featured on the 2018 album Snoop Dogg Presents Bible of Love turns the spiritual into a mighty fine quartet drive number, complete with rousing vamp.
"In a time of tragedy," the Zion Messengers declare, "somebody needs to hear these words." Tyler Perry thought so, and so did Uncle Chucc and ZM. And so do I.
The Zion Messengers want you to know that they are available for booking via Ms. D. at (602) 341-4042.
Written by : Bob Marovich
Bob Marovich is a gospel music historian, author, and radio host. Founder of Journal of Gospel Music blog (formally The Black Gospel Blog) and producer of the Gospel Memories Radio Show.