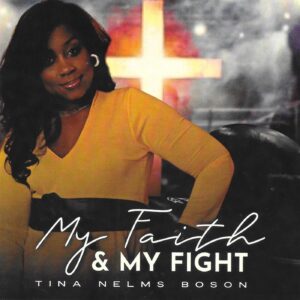 "My Faith & My Fight" (unplugged)
Tina Nelms Boson
Independent (release date: February 4, 2022)
By Robert M. Marovich
Of the orchestrated and unplugged versions of "My Faith & My Fight" by Tina Nelms Boson, my money is on the unplugged, piano-only version. It's here that Ms. Boson shows herself as a triple threat—songwriter, singer, and pianist.
The song's message is that to make it through requires more than just a passive reliance on faith but also on one's own determination, or grit. To deliver this declaration, Boson shifts from melodic singing to bluesy growling, especially during the vamp, in all evoking something of Tramaine Hawkins. In gospel music, less can definitely be more, and Boson demonstrates it on this single.
The song earned Boson Best Contemporary Female Artist at the S & M Indie Gospel Music Awards in Charlotte, North Carolina, this past weekend. She is minister of music at New Hope Missionary Baptist Church in Houston, Texas, where the pastor is her husband, the Reverend Darrel Boson.
Written by : Bob Marovich
Bob Marovich is a gospel music historian, author, and radio host. Founder of Journal of Gospel Music blog (formally The Black Gospel Blog) and producer of the Gospel Memories Radio Show.