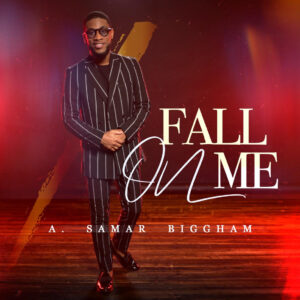 "Fall On Me"
A. Samar Biggham
A. Samar Biggham Music Group (2021)
www.samarbiggham.com
By Robert M. Marovich
In case you are wondering, A. Samar Biggham indeed is from that Biggham family.
His grandfather is the Rev. Dr. Milton Biggham, veteran choir leader and former executive of Savoy Records. His great-grandmother was a member of the Sykes Gospel Singers of Thomasville, Georgia.
The acorn doesn't fall far from the tree, the saying goes. Anthony Samar (A. Samar) has been in the gospel music ministry for about a decade but has been preaching since age 10. Among his accomplishments was appearing in the motion picture The Preacher's Wife, serving as lead singer on the Georgia Mass Choir's Tell It, and taking part in the Gospel Legends CD and DVD recording for Malaco Music Group.
Biggham's latest single, the island-flavored "Fall On Me" (written by his granddad), is a humble but energetic prayer for the Holy Spirit to descend. The fiery call-and-response between Biggham and the background vocalists transitions seamlessly to a hypnotic vamp, where Biggham's vocals assume a preacher's tuneful rasp.
A. Samar was once a youth minister in his grandfather's Mount Vernon Missionary Baptist Church in Newark, New Jersey. Now he has his own ministry as senior pastor of another Newark-based sanctuary, the Greater Mt. Moriah Baptist Church.
Written by : Bob Marovich
Bob Marovich is a gospel music historian, author, and radio host. Founder of Journal of Gospel Music blog (formally The Black Gospel Blog) and producer of the Gospel Memories Radio Show.