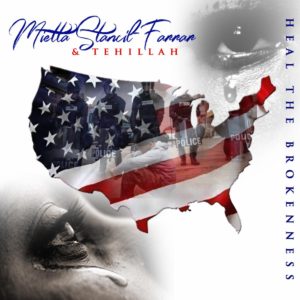 "Heal the Brokenness"
Mietta Stancil Farrar & Tehillah
From the CD The Greatness of God (original release date: 2013)
By Bob Marovich
Many gospel songs feel as if they were written about current times. Although Mietta Stancil Farrar & Tehillah of  Paterson, New Jersey, initially released "Heal the Brokenness" seven years ago, it falls in this category.
This plea for the Lord to do what nobody else can do is made all the more urgent when Mietta and Tehillah increase the passion in their pleading by incrementally boosting the volume of their voices.
Several artists have been re-purposing songs from their back catalog to give people hope and encouragement while keeping their music in the spotlight at a time when it is difficult to record new material. "Heal the Brokenness" is one of those songs that may have escaped listeners the first time around, but is a hundredfold relevant today.
The song was written by Mietta, Yolanda Kelley, and Avery Moses.
Written by : Bob Marovich
Bob Marovich is a gospel music historian, author, and radio host. Founder of Journal of Gospel Music blog (formally The Black Gospel Blog) and producer of the Gospel Memories Radio Show.