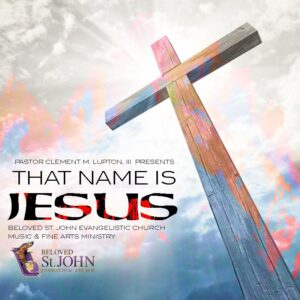 "That Name Is Jesus"
Beloved St. John Evangelistic Church
Independent (2022)
www.BelovedStJohn.org
By Robert M. Marovich
As long as Pastor Clement M. Lumpton III and the Beloved St. John Evangelistic Church of Philadelphia, Pennsylvania, keep on singing, the church choir will remain relevant.
On its latest single, "That Name is Jesus," the choir celebrates the name and the intercession of Jesus with a traditional-sounding melody and arrangement complete with a backbeat supported by handclapping. A delightfully raspy-voiced female lead vocalist conducts a call-and-response with the choir. It's especially effective during a litany of the many names of Jesus.
Founded in 1963 by Reverend James O. Taylor, the church was originally named St. John Baptist Church but switched from Baptist to Evangelistic in the mid-1990s under the direction of its current leader, Pastor Lumpton III. Buoyant contemporary choir fare with a traditional flair.
Written by : Bob Marovich
Bob Marovich is a gospel music historian, author, and radio host. Founder of Journal of Gospel Music blog (formally The Black Gospel Blog) and producer of the Gospel Memories Radio Show.