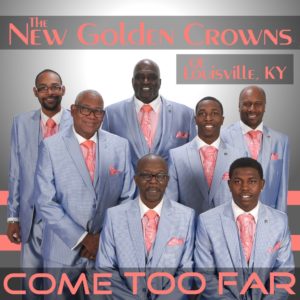 "Come Too Far"
New Golden Crowns of Louisville, KY
Sharp Records (release date: June 1, 2017)
Available from Amazon.com
By Bob Marovich
Organized in 1940 as the Golden Crowns, an a cappella quartet, the New Golden Crowns of Louisville, Kentucky, are comprised of a mixture of new members and a couple of veterans, notably lead singer Reverend Nathaniel Brown (50+ years) and guitar player Reverend Bobby Johnson (30+ years).
"Come Too Far" is a drive-tempo hand clapper that riffs on the church catchphrase, "I've come too far, I can't turn around," as immortalized in the Alex Bradford classic "Too Close to Heaven." The instrumentation is just right, the backbeat is solid, and the song is sung hard with that country-fried southern soul that defines today's quartet sound.
Written by : Bob Marovich
Bob Marovich is a gospel music historian, author, and radio host. Founder of Journal of Gospel Music blog (formally The Black Gospel Blog) and producer of the Gospel Memories Radio Show.