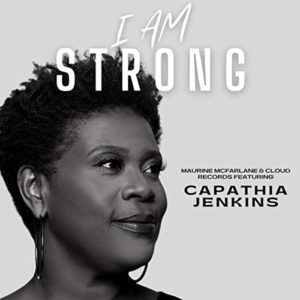 "I Am Strong"
Capathia Jenkins
Cloud Records (release date: June 11, 2021)
http://www.cloudrecordsllc.com/
By Robert M. Marovich
"I Am Strong" by Capathia Jenkins is an excellent song, marvelously sung, perfectly arranged and produced, and with a message about courage that transcends the purely spiritual.
The Brooklyn-born singer has performed with several orchestras and has a list of acting credits as long as your arm. These include creating the character of Harriet Jackson in the vastly underrated Broadway musical, The Civil War, and the character of The Washing Machine in Caroline, or Change. She was nominated for a Drama Desk Award for her performance in (mis) Understanding Mammy – the Hattie McDaniel Story, and has appeared in motion pictures and on television.
With a growing list of talented singers, Cloud Records may become a force to reckon with in the gospel field.
Written by : Bob Marovich
Bob Marovich is a gospel music historian, author, and radio host. Founder of Journal of Gospel Music blog (formally The Black Gospel Blog) and producer of the Gospel Memories Radio Show.