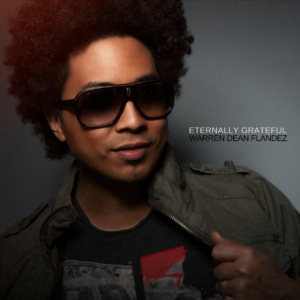 "Joy!"
Warren Dean Flandez, feat. Top Line Vocal Collective
From the CD Eternally Grateful
www.wdfworld.com
On his new project, Eternally Grateful, Vancouver gospel sensation Warren Dean Flandez reprises the five-star material from his EP What the World Needs Now, adding additional tracks to round the package out.
"Joy!," featuring the talented 50-member choir known as Top Line Vocal Collective, is one of the songs brought forward from the EP. This paean to God's goodness blends old and new seamlessly, capturing the celebratory mood found in both traditional and contemporary gospel music.
Reviewing What the World Needs Now last March, I had this to say about "Joy!": "…an infectious, soulful, handclapping ode of praise with a seething organ and an extended sanctified backbeat toward the end." Like other Flandez songs, it is "smart and delightfully retro while at the same time staying firmly in a modern groove."
Blend Deitrick Haddon with Pharrell and you get Warren Dean Flandez.  He could well be the first major artist from Canada to break into the U.S. gospel music market.  Meanwhile, Eternally Grateful is a 2017 Juno Award nominee for Best Contemporary Christian/Gospel Album of the Year.
Written by : Bob Marovich
Bob Marovich is a gospel music historian, author, and radio host. Founder of Journal of Gospel Music blog (formally The Black Gospel Blog) and producer of the Gospel Memories Radio Show.