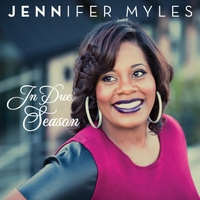 "In Due Season"
Jennifer Myles (2016)
www.cdbaby.com/cd/jennifermyles2
Bronx-born Jennifer Myles and her team of musicians and singers tear it up on her debut single, "In Due Season."
Fueled by a frenetic pace, "In Due Season" is a romping reminder that although we may wait for our breakthrough for what seems like a lifetime, make no mistake: it is on its way. He will. She's a witness.
Now living in Decatur, Georgia, and assisting the Beulah Missionary Baptist Church music ministry, Myles has served as background vocalist for a parade of popular gospel artists. She is now intent on developing her solo career, and if this single is any measure, her due season is at hand. Multi-Grammy Award winner Kevin Bond produced.
Written by : Bob Marovich
Bob Marovich is a gospel music historian, author, and radio host. Founder of Journal of Gospel Music blog (formally The Black Gospel Blog) and producer of the Gospel Memories Radio Show.