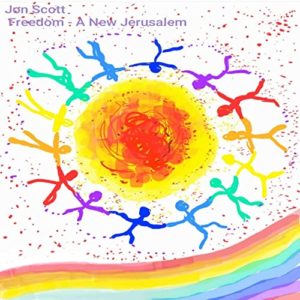 "Freedom – A New Jerusalem"
Jon Scott
From the Brown Babes EP Freedom – A New Jerusalem
(release date: November 17, 2020)
Jon Scott, a London-based singer-songwriter (and first cousin to international singing star Seal), wrote "Freedom – A New Jerusalem" in response to President Donald Trump's campaign promise to build a wall between the United States and Mexico. The murder of George Floyd only amplified Scott's anger.
With elements of Afrobeat and a U2-esque world pop sensibility, the title track of Scott's four-track EP is an explicit call on the international community to break down the dividing walls and build a new world, a New Jerusalem, that gives no quarter to hatred, bigotry, and racism.
Scott's soaring freedom anthem interpolates snippets from the Reverend Dr. Martin Luther King Jr.'s March on Washington "I Have a Dream" speech. At the conclusion, Scott and others conjure a street protest by chanting the chorus in unison.
Born in Nigeria, Jon Scott is an attorney (solicitor in England) and a longstanding member of St. Marks Church (Church of England) in Kensal Rise.
Written by : Bob Marovich
Bob Marovich is a gospel music historian, author, and radio host. Founder of Journal of Gospel Music blog (formally The Black Gospel Blog) and producer of the Gospel Memories Radio Show.