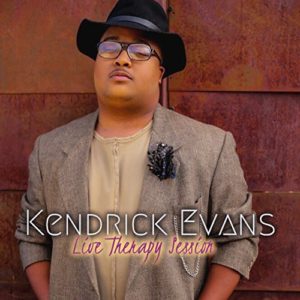 Kendrick Evans
Live Therapy Session
Rock the Cause Records
(release date: September 29, 2017)
By Bob Marovich
Appearing on the CW docu-drama My Last Days, award-winning gospel singer Kendrick Evans of Quincy, Florida, opened up about his acute sleep apnea that doctors said would give him about three more years to live.
Eschewing the surgery that would probably have ruined his voice, Evans chose to find other remedies so he could sing.
And sing he does. Evans uses his Live Therapy Session as a musical variant of the mental health counseling the title suggests. He puts all of his stuff out there, using song introductions as testimonials about his sleep apnea, the pushback he received for not going through with the surgery, and the resultant depression and suicidal thoughts they caused. He accentuates his meaty vocals with interjected whoops and hiccups and sometimes gives lines a sassy reading, though he wells up in palpable emotion on the supplicatory "Lord Help."
The opening track, "Let's Go Back," telegraphs in lyric, if not in arrangement, that traditional gospel enthusiasts and quartet lovers will find satisfying selections on the album. Indeed, Evans's inner quartet singer emerges on "Redeemed," a mid-tempo workout about Jesus's relentless efforts on our behalf. Explosive squaller Evangelist Marva McKinley of the Mississippi Mass Choir solos on "Running," which riffs on the "ninety-nine and a half won't do" theme and comes complete with an audience-engaging vamp. "Moving" is yet another selection steeped in a driving quartet vibe.
Evans covers Maggie Ingram's "I Talked it Over," a song he heard during the darkest days of his mental and physical ailments and has already recorded with BeBe Winans. It fits well with the album's refrain of seeking the Lord in prayer.
The only challenge in reviewing this project is not knowing the names of some of the featured soloists. Nevertheless, the net result of Live Therapy Session is to wait on the Lord, no matter how dark the past, present, or future look. "Stand" and the aforementioned "Redeemed" express this point most directly.
Four of Five Stars
Picks: "Running," "Moving"
Written by : Bob Marovich
Bob Marovich is a gospel music historian, author, and radio host. Founder of Journal of Gospel Music blog (formally The Black Gospel Blog) and producer of the Gospel Memories Radio Show.