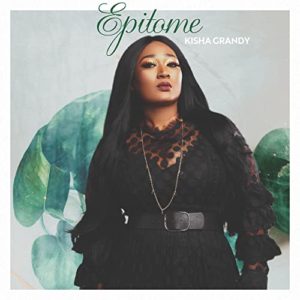 Kisha Grandy
Epitome
K.J. Productions (release date: June 22, 2021)
By Robert M. Marovich
Epitome is a solo album by actor and singer Kisha Grandy, an alumna of Kirk Franklin and the Family going back to the group's debut album in 1993.
Indeed, it's a Kirk Franklin reunion of sorts, as the album's solitary churchy track, Jessy Dixon's "God is Standing By" (popularized by Walter Hawkins), finds Grandy in a fiery duet with Family alumna "Mother" Sheila Brice. The background vocalists support the two on the drive-tempo vamp that could have kept on going. "More Than Ever," featuring Family member Darrell Blair with LaTonja "Psalmist of Deliverance" Blair, is a new take on the old saw "if we ever needed the Lord right now, we sure do need him now." Of any new song on the album, it has the best chance of being picked up by other artists.
VAA'DAM and Kelton Je'Von, producer and composer of most of the songs, offer frequent background vocals. They are as much a part of the project, and offer nearly as much, as Kisha herself. Notable is the a cappella "Endow Me," on which Grandy and VAA'DAM sing in free time and improvise with evangelistic fervor. By the end, you realize they are emulating the Clark Sisters.
"You Did It" is the current single and rightly so. Its gushes of gratitude for God's goodness, smooth R&B patina, and gymnastic singing encapsulate Grandy's sound. A more laidback remix, featuring Norris J and Slikk Musik, appears toward the end of the album.
"All Because of You," with writer Je'Von adding his vocals to the mix, is a slow-burning love song to God. The title track, another laidback selection, is finger-popping and melodic; it has possibilities for radio. "Fully Committed" is another slow jam, this time on vulnerability to life's temptations and the attendant desire to be a better disciple. By the end, Grandy flexes her vocal chops in fireworks of improvisation.
Inspired by Romans 8:28, "Work It Out" is a song of encouragement sung by someone who has been there, done that, and is now experiencing spiritual freedom.
The album's solid arrangements and understated production by Je'Von and a host of others give this fantastic singer the support she needs. I only wish there was at least one more oldie like "God Is Standing By," or a Franklin throwback, on the disc.
Kisha Grandy may have gone through some tough things recently, but she doesn't sound like what she's been through.
Four of Five Stars
Picks: "You Did It," "God Is Standing By"
Written by : Bob Marovich
Bob Marovich is a gospel music historian, author, and radio host. Founder of Journal of Gospel Music blog (formally The Black Gospel Blog) and producer of the Gospel Memories Radio Show.