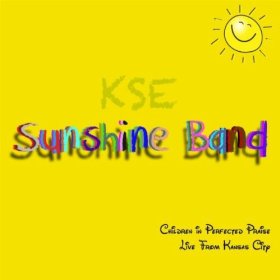 KSE Sunshine Band
Children in Perfected Praise: Live from Kansas City (2013)
Available from digital music retailers
By Bob Marovich
Early in Church of God in Christ history, founder Bishop Charles Harrison Mason tasked the denomination's Women's Division to establish sunshine bands, or choral groups, to provide COGIC children with a musical outlet steeped in religion.
For the past century or so, tens of thousands of saints—from everyday people to sacred and secular music superstars—have come up through a sunshine band.
The forty-member Kansas East Jurisdictional Sunshine Band Recording Choir, under the direction of Sis. Jean Henderson, is one of these ensembles. In addition to their cute factor, these youth can sing. Their energy and tunefulness as a unit helped earn them a Stellar Award nomination in 2014.
While the island-flavored "Oh! What A Happy Day" is what brought the Kansas City, Missouri-based group of 3-12 year-olds to the attention of radio outlets, the exuberant "I've Got Joy" and the resultant "Sunshine Band Praise" are the album's standout selections. The number of digital purchases of "Joy" on Amazon testifies to the power of this Pentecostal workout.
Kudos to the banging band of musicians, and especially the organist, drummer, and electric guitarist, the latter taking an incendiary solo during the album's instrumental conclusion.
Well before the emergence of the School of Rock, the Sunshine Band was a School of Gospel Music.
Three of Five Stars
Picks: "I've Got Joy."
Written by : Bob Marovich
Bob Marovich is a gospel music historian, author, and radio host. Founder of Journal of Gospel Music blog (formally The Black Gospel Blog) and producer of the Gospel Memories Radio Show.