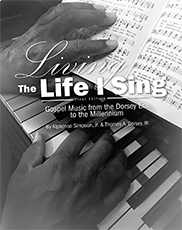 Living the Life I Sing:
Gospel Music from the Dorsey Era to the Millennium (First Edition)
Alphonso Simpson Jr. and Thomas A. Dorsey, III, eds.
Paperback; 180 pages, with illustrations (Cognella Academic Publishing)
https://titles.cognella.com/living-the-life-i-sing-9781634875493.html
By Bob Marovich
Living the Life I Sing is a fascinating collection of essays from prominent scholars on the creation, development, and impact of African American gospel music.
Although gospel's acknowledged father, Thomas A. Dorsey, is the central figure of the book, he is not its sole concern.  The book covers a variety of facets of gospel music from its West African roots to today.
A few essays were newly composed for the book—including one from this author, on Dorsey's use of established musical pedagogy in early gospel singing—while the majority of the chapters are reprints of essays previously published in scholarly journals or excerpts from full-length books. All are thoroughly researched and annotated, vividly expressed, and thought provoking. Credit goes to Dr. Alphonso Simpson Jr. and Thomas A. Dorsey III, Esq. (grandson of the Father of Gospel Music) for gathering the essays from hither and yon, and assembling them into an easy-to-reference volume.
The contributing writers are star-caliber scholars.  They include Drs. Portia Maultsby and Mellonee Burnim, who offer a concise survey of the history of African American religious music; music historians such as Paul Oliver, Al Young, and Guthrie Ramsey; and contemporary thinker Michael Eric Dyson. Editors Simpson and Dorsey III also contribute their own thoughts to the book. The Father of Gospel Music himself is quoted liberally in one section.
Pulling together essays written over a period of years is likely to unearth some factual inconsistencies, based on the sources available to scholars at any given time, but in general, the essays complement one another very well. And of the newly-composed chapters, I found especially prescient Braxton D. Shelley's analysis of the live recording experience with respect to commercial viability. Considering the high percentage of gospel albums recorded live today, this is an essay all group and choir leaders should read.
The book concludes with interviews of contemporary gospel artists, industry notables, and civic leaders. In one, Congresswoman Sheila Jackson Lee shares how she and her colleagues got September officially recognized as Gospel Music Heritage Month. The interviews help place the scholarly commentary of the essayists into real-life context. After all, gospel music is a business, as well as a ministry.
The book would have been even better had it included an index so readers could easily reference artists, songs, themes, as well as topics relating to Dorsey's religious, musical, and leadership development.
Like Dr. James Abbington's valuable Readings in African American Church Music and Worship anthologies, Living the Life I Sing is a book one can read cover to cover or dip into from time to time without sacrificing narrative continuity. However it is read, Living the Life I Sing is destined to become an essential companion for anyone studying, or interested in learning more about, the nuances of African American sacred music and its significant influence on contemporary culture.
Written by : Bob Marovich
Bob Marovich is a gospel music historian, author, and radio host. Founder of Journal of Gospel Music blog (formally The Black Gospel Blog) and producer of the Gospel Memories Radio Show.