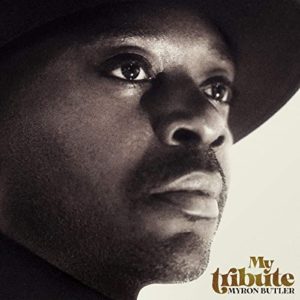 Myron Butler
My Tribute
Fair Trade / Columbia / Red Alliance Media
(release date: June 26, 2020)
By Bob Marovich
Together with several of today's top-flight gospel artists, singer-songwriter Myron Butler pays homage to one of his chief inspirations, Andrae' Crouch, with a feature-filled album called My Tribute.
All but one of the selections are Crouch originals, but with modern augmentations to make them relevant to today's audience. And in all but one case, Butler duets or trades leads with the guest vocalists. That one cut, "All Things Well," is a praise ballad and the album's debut single. It's a Butler original written in the Crouch style and sung solo by the songwriter with significant support from his background singers.
The grooves on My Tribute shift from churchy traditional on "The Blood Will Never Lose its Power" (with a shouting Pastor Michael Lampkin) and Oh It Is Jesus" (with Blanche McAllister-Dykes) to sprightly lead vocals from Dorinda Clark-Cole on "Right Now" and a funky Commissioned-like twist to the devotional favorite, "Nobody Can Do Me Like Jesus" by Fred Hammond. "Take Me Back" features Kirk Franklin and Kelontae Gavin in a veteran-meets-newcomer (preacher-meets-singer) duet. "We Are Not Ashamed," with Kim Burrell, takes the collection right back to church.
Given Crouch's vast catalog of songs, it would be difficult to hit all the high points, even in multiple CDs, so several classics, including "Always Remember," "Jesus is the Answer," "Through It All," and "Soon and Very Soon," are packed into a more than eight-minute medley, with vocalists Anthony Hamilton, Kenny Lattimore, Shelby 5, and Candy West assisting.
The beloved title track gets a solid reading from Butler and a remarkable Dayanna Redic, whose voice is expressive and rockets off flights of soprano notes towards the conclusion. Ms. Redic is cut from the same vocal cloth as Chrystal Rucker.  I hope we hear more from in the future.
Butler's background vocalists, which include his group Levi as well as choristers from throughout the Dallas-Fort Worth area, offer singular support.
Of course, there will be some who want to know why their personal favorite Crouch song wasn't included, but it's an excellent collection. I think it's safe to say Andrae' would be pleased with the outcome.
Five of Five Stars
Picks: "The Blood Will Never Lose Its Power," "My Tribute"
Check out our interview with Myron Butler here: My Tribute Interview
Written by : Bob Marovich
Bob Marovich is a gospel music historian, author, and radio host. Founder of Journal of Gospel Music blog (formally The Black Gospel Blog) and producer of the Gospel Memories Radio Show.