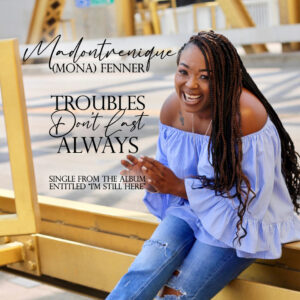 "Troubles Don't Last Always"
Mona Fenner
From the forthcoming EMG Alliance album I'm Still Here
www.monafenner.com
By Robert M. Marovich
Encouraging people to keep the faith in the midst of trials and tribulations is something gospel music does better than any other music genre. In many ways, it's what makes gospel gospel.
Thus it is on Madontrenique (what a beautiful name!) "Mona" Fenner's debut single, "Trouble Don't Last Always." She sets the timeless message to a contemporary arrangement and instrumentation. Her voice, which shifts from sweet to shout as the song progresses, is straight outta church. Singing her troubles over with the confidence of a true believer, Fenner anticipates a better tomorrow.
Among Fenner's many accomplishments as a vocalist is appearing at the famous Stockholm Gospel Festival in Sweden.
Written by : Bob Marovich
Bob Marovich is a gospel music historian, author, and radio host. Founder of Journal of Gospel Music blog (formally The Black Gospel Blog) and producer of the Gospel Memories Radio Show.