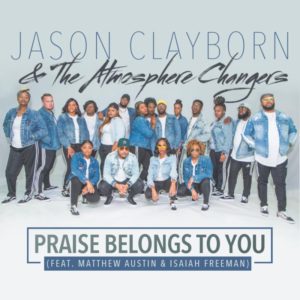 "Praise Belongs to You"
Jason Clayborn & the Atmosphere Changers
Tyscot Records
www.tyscot.com
By Bob Marovich
"Praise Belongs to You," co-written by Grammy Award-nominated gospel songwriter Jason Clayborn, author of such hits as Hezekiah Walker's "Better" and Ricky Dillard's "I Survived It," is Clayborn's debut single as an artist for Tyscot Records.
Assisted by his small choir, the Atmosphere Changers, Clayborn offers a radio-ready praise anthem aided by full-bodied production, dramatic key changes, and lead vocal assists from Isaiah Freeman and Matt Austin.
The Atmosphere Changers incrementally build the song's tension with passionate and full-throated harmonies until the only place left to go is into a trio of Freeman, Austin and Clayborn, who weave their voices into a tapestry of praise that closes out the song.  Sounds like a surefire hit to me.